Call to action (CTA) means "call to action". Its objective is to direct the user to the next step that he must take next, when he is in contact with the company through some channel. They are important tools used to attract users, nurture them and convert them.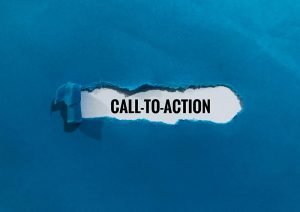 You ever heard of call to action (CTA)? Do you know what it means? In Portuguese the term can be translated as "call to action" and works as a user invitation.
It is an important stimulus that can be used to invite a potential customer to visit your website, help a lead move to the next steps, and even stimulate a purchase.
In this article, we will explain what a call to action is in practice, by presenting some examples and explaining its uses. Read on and find out how to use CTA in your strategy.
What is call to action?
As we said, call to action (CTA) means "call to action" and, in the digital environment, it is usually associated with some hyperlink or button.
In this context, it is important to emphasize that the main objective of a call to action button is guide the user, who is interacting with a company's content or channel, for the next phase of their buying journey.
"Click and learn more", "Download it right now" or "Buy it here" are some popular call to action types used in different stages of a customer's purchase journey.
CTAs are important tools used to attract users, nurture them and convert them. Therefore, they are very useful resources to maintain the relationship and advance the leads through the stages of sales funnel.
Call to action examples: how to use
Call-to-action buttons can be used at different stages of the sales process of a company and to achieve different goals.
For example, consider that your company created an ad on Google Ads and you want the customer to click on the advertisement so that they are directed to the pages of your website. For this, a possible call-to-action button could be "Take advantage of the limited-time offer", "Click and learn more" or "Access your coupon for free".
These call-to-action examples are intended to increase visitor traffic on your pages. Or, in funnel logic sales, it completes the attraction stage of the inbound marketing.
After all, ads have a very close relationship with this phase of the purchase journey, when the customer is beginning to understand their needs.
It is also interesting to apply a call to action like these in the retargeting, a strategy widely used in e-commerce to make a potential customer, who have already visited your pages, return to the site and complete the purchase.
In these cases, some examples of call to action that can get many clicks are: "Take advantage of free shipping" or "Buy with 20% OFF with coupon 20FREE".
Note that the use of the call to action button must be aligned with your campaign objective. He can invite a user to access your website or call you to purchase action. In fact, he can do more than that. In addition to the examples of call to action in advertisements, it is essential to remember the use of this tactics within email marketing.
In this case, you can use CTAs that take leads to other materialsAs webinars, ebooks, video tutorials and more.
But there are many other examples of e-commerce call to actions that invite a former customer to:
buy again;

discover the new product line;

take advantage of new releases;

check out the best selling items and much more.
Call to actions within email marketing must also make it clear to the lead what they will find when they click the button and they need a clear objective – even so that your team can measure the results.
Read also: Content marketing tactics for e-commerce sites.
Whether on social networks, when you invite your followers to learn more about a subject by signing up for a free online event, for example, or within e-commerce, where you use the CTA to invite the visitor to check out the most viewed products, the call to action must be clear, unique and have a defined objective.
How to create a good call to action?
In addition to thinking about the objective you want to achieve with the call-to-action button, your team should also be aware of other elements that will allow you to create a good CTA. Check out the main ones.
Relate the call to action to the rest of the page

Choose the right size and color for the call to action

Set the right location for the CTA

Use verbs in the imperative

Insert mental triggers

offer something of value

Focus on a single call to action

take tests
Relate the call to action to the rest of the page
The CTA must be in line with other information on the page and the content so that it really helps in convincing the reader, making him click on the call.
Choose the right size and color for the call to action
O size and color of the call to action should match the layout of the rest of the material. Both should complement each other and draw attention. For this, it is recommended that the tones are vibrant and that the size is suitable.
Set the right location for the CTA
It is very important to define the right place where the CTA will appear. Ideally, it should be centered, in the first "fold" of the content, that is, in the top half of a page.
Use verbs in the imperative
It is also important to use imperative verbs that call the user to action. For example, "Buy it now" or "Download".
Insert mental triggers
You can enter mental triggers in the CTA, such as urgency, to get the user to act immediately. For example, "Free shipping for only 24 hours!".
offer something of value
Offer something of value by including a call to action in your strategy, without which you will hardly get the clicks you expect.
Focus on a single call to action
Remember if: the call to action must be unique. Don't worry, that doesn't mean you can't have more than one button on the page. It is possible to have more than one CTA, but all must take the user to the same location, that is, they must make the same call to action. Otherwise, they can end up diverting the user's focus and losing the effect.
Therefore, avoid offering too many CTAs on different subjects, which lead the lead to think about which button is best to click and what is best to know. That's because, in case of doubt, he may end up not clicking on anything.
take tests
One of the ways to optimize the results of the CTA is by carrying out A / B tests that will show you which call-to-action templates are getting the most clicks.
Read also: What is CVR, why is it important and how to optimize the conversion rate?
Call to action types
In the previous topic, we presented some call to action options that you can use in your strategy, at different times.
Now we're going to show you the main examples of using these CTAs so you can choose which ones to use at different times in the business process.
Click and check it out!

Take a free trial

Access the rich material now

Enjoy free shipping!

Schedule a visit

Ask for the contact of our consultant
Call to action for e-commerce
inside a marketing and sales strategy for e-commerce, CTAs are very relevant to attract and convert customers, whether they are new consumers, buyers who have abandoned the carrinho de compras or former customers who have not made a purchase for a long time.
Along with a good call to action, to increase conversion rates, invest in experience improvement offered to the customer within your virtual store is an essential practice.
For this, you can count on SmartHint tools. Discover our technology and understand how to use it to improve your e-commerce experience, retain customers and generate more sales.