How Calmô Store elevated the shopping experience with smart showcases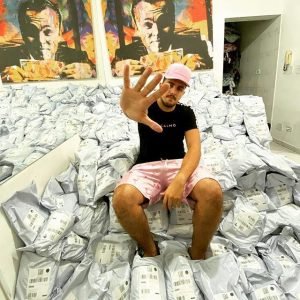 Streetwear fashion started a little over 20 years ago, with skateboarders. The movement goes against the right look. The pieces value comfort, they are uncomplicated. Therefore, the segment is currently associated with the urban youth style.
Skateboarding has a cultural environment that directly interferes with consumer behavior, which is impacted by music, art, design, entertainment, content, architecture and fashion. Thinking about this niche market, Calmô Store was created.
Since 2017 the Calmô Store promises to take you the exclusive, uniting quality national products at affordable prices. The store started on Instagram, the social network currently most used by young people, according to research. About 96% of e-commerce that open in Brazil, close in the first months, but Calmô, in partnership with Nuvemshop and SmartHint, remained in the digital market and continue to gain space, After all, why are you in such a hurry?
"We found SmartHint in the apps area of ​​Nuvemshop, our e-commerce platform, and we can say that it changed the face of our online store, made everything more intuitive and their service makes things happen easier. and practical, with spectacular proximity! "said Brunno Whener, Co-Founder of Calmô and responsible for e-commerce.
For the audience at the Calmô Store, receiving recommendations for product combinations is paramount, since the flagship of e-commerce has been the combination of summer shorts among couples, taking the shopping experience to a higher level.
How can SmartHint help you?
With more than 15 thousand active stores, the winner of the award for best retail startup in Latin America by the Latam Retail Show, it is also among the 5 best suppliers for e-commerce in Brazil, according to the E-commerce Brazil Forum.
Based on the consumer's browsing profile, SmartHint's unique artificial intelligence displays the products potentially desired by the buyer, providing a differentiated shopping experience through personalized shop windows, smart search, and retention pop-ups. For the shopkeeper, the personalized service it is essential and collaborates for the correct functioning of your e-commerce.
Are you interested in knowing more about the tool that can boost your sales and bring the richest shopping experience for your consumer? Click here and start using it for free!