Offer a shopping experience Custom for consumers it is increasingly necessary, especially in e-commerce. So having a recommendation system com smart shop windows it is already practically a requirement. But what if you could go further and also ensure a personalized search for your client? With the behavioral search for e-commerce this is possible.
In this text, we'll cover everything that involves this innovative technology:
Check it out!
What is behavioral search
A behavioral, or personalized search, shows the most relevant results for each user through behavioral analysis navigation.
If you do Google searches - and you certainly do - you may have already wondered if you're being watched, because he seems to know exactly what you're looking for. And the answer is yes. Its about artificial intelligence (AI).
Intelligence analyzes the user's behavior on the internet and identifies their main interests. That is why a search for "ferrari" can show cars or perfumes in the first results, depending on who is behind the screen. These different results are the result of the behavioral search.
Behavioral search for e-commerce
Behavioral search is available for online stores. It is part of a system of smart search which also uses AI and has other fundamental features for its search field, such as: high speed; phonetic similarity; automated color search; voice search; is image search.
The difference is that, in this case, the intelligence analyzes only inside the store and does not deal with sensitive data, this ensures greater security for the user.
But, as with Google, it is also able to identify the consumer behavior and his main interests, as it analyzes everything he does inside the store: clicks on products, showcases, categories, searches he does and even the time spent on each page.
This way, you can show the most relevant products for him in the first results. This ensures customization da shopping experience, which makes the journey much more pleasant and assertive and increases the chances of conversion.
How behavioral search works in e-commerce
As its name suggests, behavioral search is based on consumer behavior. This means that for it to work, the user must have navigated the virtual store a little, thus demonstrating his profile and interests.
For you to understand better, let's simulate a purchase day. Imagine that the customer wants to buy a rice cooker, that is, he already knows what he wants, but among so many options, he needs to decide which one to choose.
He enters the site and types "pot" in the search field. In the results, there are several types of pots, with different models and colors, but not all are consistent with what he is looking for.
Then, he starts to select and clicks on the pots of interest. Click on the suggestions in the windows, in categories and also search for "rice cooker".
Based on these behaviors, the artificial intelligence already managed to identify what he is looking for. But this acquisition is not urgent and the client is at lunch, needs to return to work. So, he leaves the store and leaves it for later.
Later, after hours, he decides to return to the site and continue his search. Thus, he goes to the search field and, absentmindedly, types again only "pot". But this time, something different happens: the first results of the search are rice cookers, the same or similar to those he showed interest in earlier, as shown in the image below.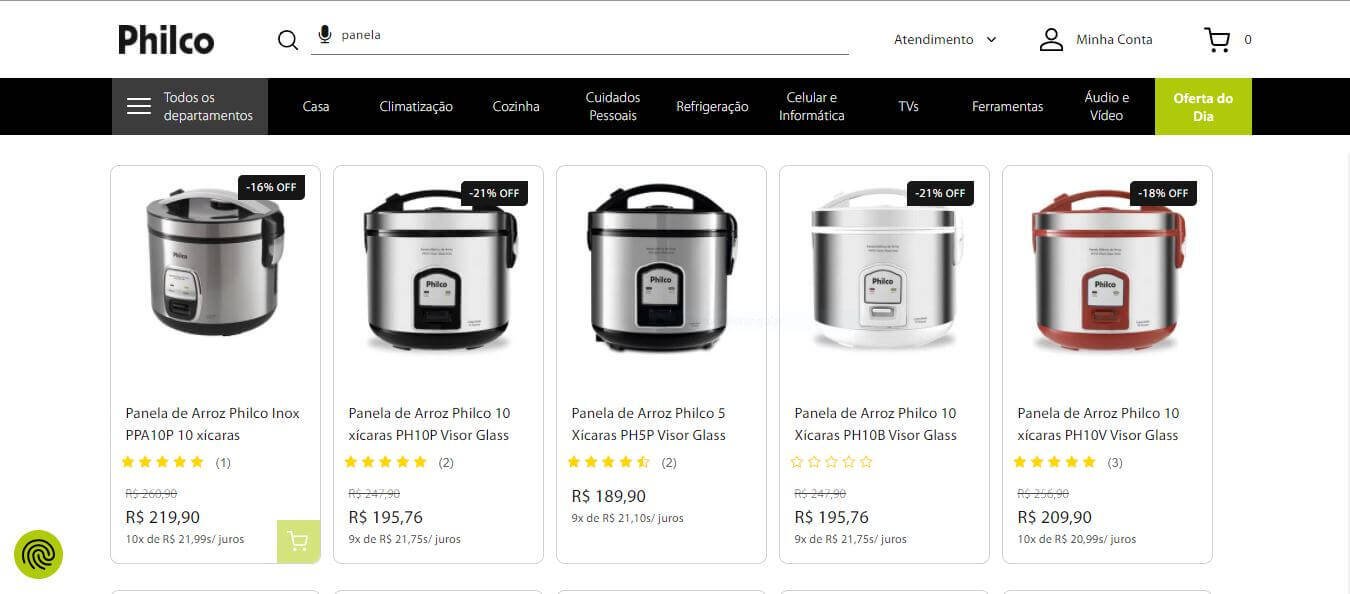 As you saw, after the intelligence can analyze the behavior of the consumer inside the store, even if he does a generic search, the results will be personalized with the products most relevant to him at that moment.
Behavioral search and the fashion market
Despite being efficient in any segment, the behavioral search is even more advantageous for the fashion market, where customers look for products that reflect their style and identity.
In the example below, the consumer was looking for jeans. See that, after browsing the store for a while, just typing "pants" and the results were compatible with what she was looking for: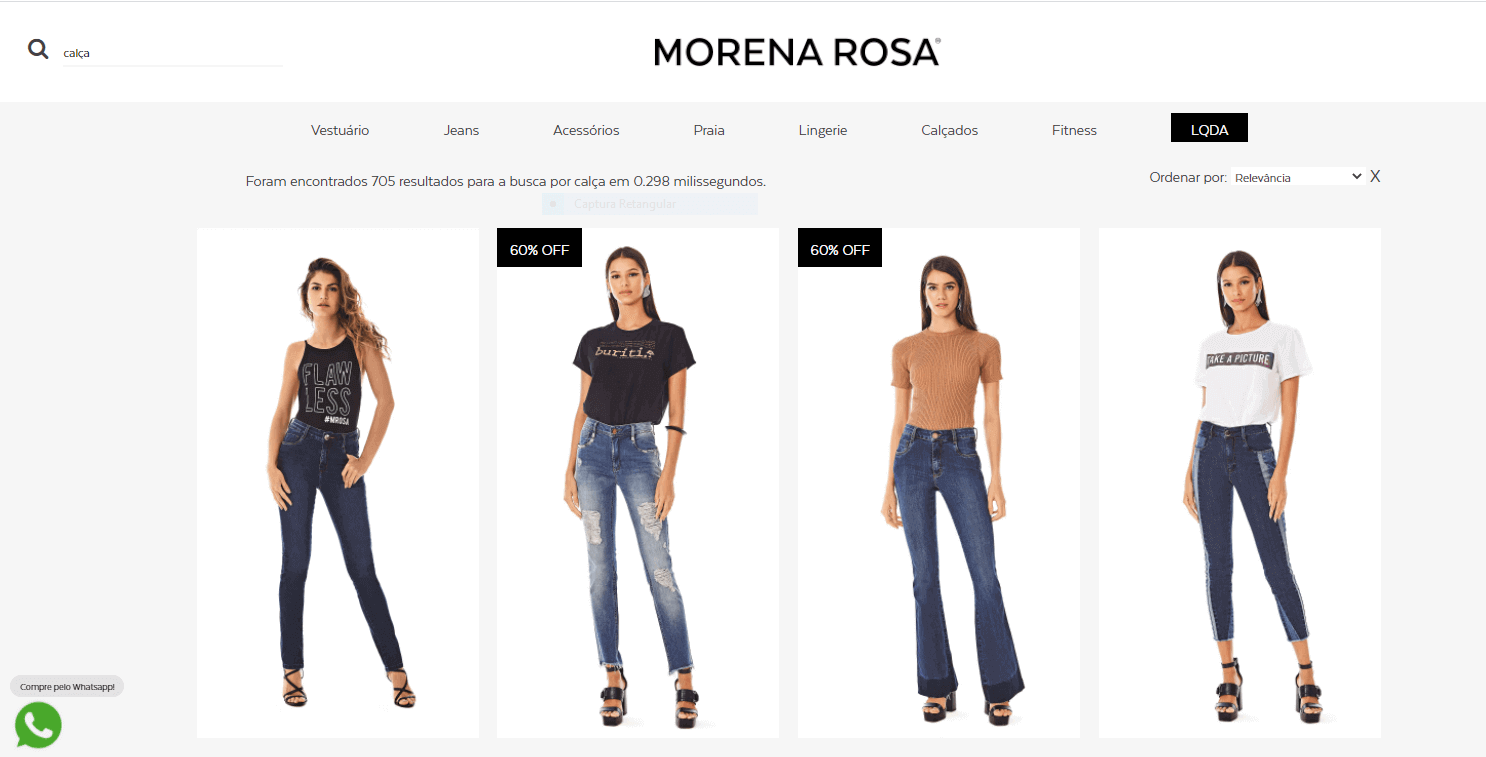 A smart search from SmartHint has behavioral search. See how this technology works in practice, in the video exemplified by Homer Simpson:
Benefits of a personalized behavioral search
Now that you already know what a behavioral search for e-commerce is, let's list some of the benefits that this technology brings to your online store.
Personalization
It all starts with personalization. As we mentioned at the beginning of the text, this is increasingly necessary, as consumers are increasingly demanding and want a EXPERIENCE differentiated.
Os recommendation systems already do that, with the smart shop windows. But the most determined consumer likes to search directly in the search field. So, if your search is also personalized, he will surely be much more satisfied.
Agility in the purchase decision
When the search results are personalized for the consumer, it is easier for him to find what he wants and, with that, the decision-making becomes much more agile.
Higher shopping experience
Personalization and ease of decision making make the customer feel special and satisfied with the shopping journey inside the store. That means you had a EXPERIENCE higher than if it had not interacted with a behavioral search.
Higher chances of conversion
By offering a high and personalized shopping experience and guaranteeing agility in decision making, the sales conversion becomes a natural consequence. And, at the end of the day, that's the biggest goal, isn't it?
Differential for the brand
In addition to all this, having a personalized search is a great differentiator for your brand, as it is a recent technology in the market, but very RESERCH, which, for sure, will leave your e-commerce thousand light years ahead of the competition.
Discover this technology and elevate the shopping experience in your online store!
Written by: Tania d'Arc