Voice search for e-commerce allows consumers to search for products using their voice, without having to type anything. Understand how this innovative technology works.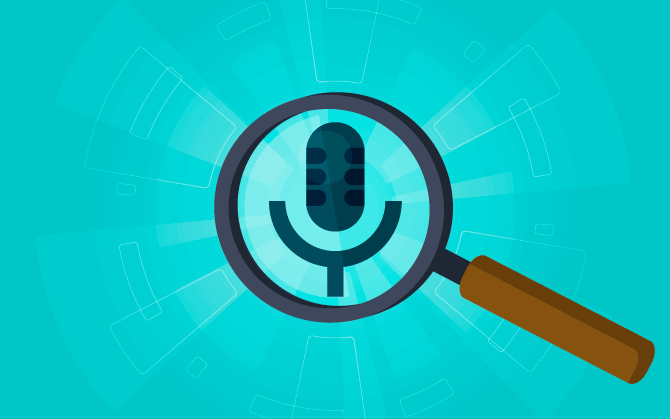 Have you ever wondered if your client could search by voice the products inside your virtual store? This is possible with voice search for e-commerce.
It facilitates the search and makes purchase day much faster, assertive and practical. All of this raises the shopping experience, increasing the chances of conversion and customer loyalty.
This tool is still a novelty in this segment, but it will be an increasingly strong trend. Therefore, we prepared this content to explain everything that involves this technology. See the topics that will be covered:
What is a voice search for e-commerce
A voice search for e-commerce is a tool that allows consumers to search for products within the online store using only their voices, without having to type anything in the search field.
A voice technology it is increasingly common to do all types of searches on search engines, like Google and Bing; to perform commands on Smart TVs, such as turning on and off, switching channels, searching for movies and series; and to do both with the voice assistants Alexa, Google Home, Siri, Cortana, etc.
Voice search for e-commerce works in more or less the same way, only within the virtual store. It is one of the characteristics of smart search, which uses artificial intelligence (IA) to optimize online searches.
Therefore, it has the same characteristics: high speed; phonetic similarity; automated color search, through image recognition; behavioral search; is image search. And it works on both your desktop and smartphone.
This means that if the consumer chooses to use his voice, he will have access to the same advantages of typed research, but with a plus: the convenience of not having to use his hands to type.
How does voice search work?
Voice search works through the speech recognition with artificial intelligence and is only possible thanks to the union of two fields of study: linguistics and computing, which gave rise to computational linguistics.
With speech recognition, AI is able to identify phonemes, words and phrases spoken verbally. In this way, it is possible to promote speech interaction of the human being with the machine.
In cases of voice search for e-commerce, the consumer just needs to click on the microphone icon, speak what he wants and the intelligence will identify what was said and transcribe it into text automatically, as shown in the example below:
As mentioned earlier, note that the other capabilities of the smart search also act in the search for voice. Therefore, it was possible to find the product looking for the color - even without having this information in the title or description of the product - and the results were shown in milliseconds.
Likewise, if the customer pronounces the name of a product or a brand incorrectly, intelligence identifies the information and the voice search shows the right results, similar to what happens with the search typed in an intelligent search. It is a great outlet for foreign products and brands and with names that are difficult to write and / or pronounce.
Here's how it works:
In the previous example, the consumer is looking for a specific type of wine, "pinot noir", a grape originally from France. Anyone who knows a little about the French language knows that the correct pronunciation makes the word "pinot" sound stronger in the second syllable, that the "t" is almost silent and that the "go" of "noir" has a sound similar to "arr" for Portuguese speakers.
But who does not know this, ends up pronouncing it as if it were a word in the Portuguese language. However, as you have seen, voice search has the ability to identify and show the right results nonetheless.
Why have voice search in my e-commerce?
Now that you know what a voice search for e-commerce is and how it works, we have listed some benefits and reasons for you to have this technology inside your virtual store. Check out.
Ease in the search for products
Having an active voice search in your search field means that the customer does not need to type anything when looking for a product. This greatly facilitates the purchase journey, especially in the case of foreign items and brands or with difficult names.
More speed to show results
A smart search by itself it already has high speed and shows the products in milliseconds, but the search for voice can be even faster. According to Bing, searching using your voice is 3,7 times faster than typing. Furthermore, the customer does not need to think about how to type what he wants, he just speaks and the search already shows the results.
Voice technology is a growing trend
As already mentioned, today voice is increasingly used in various situations in the online and even offline universe, with the use of virtual assistants, SmartTVs, voice search in search engines and even in instant messaging applications. , such as WhatsApp.
In addition, this feature has also been widely used for online shopping, with the voice commerce and now with its own internal voice search in e-commerce. All of this shows that people are changing their habits a lot, especially the younger audience, and will prefer to perform voice searches if they have this option. Apparently, the expression "voice first" will soon be very common.
Same experience throughout the purchase journey
Many people already search for information and products on Google, using their voice. If your customer has this custom, with a voice search within the virtual store you can offer them the same experience throughout the purchase journey.
Imagine, for example, that he accesses Google to look for a wine to buy, clicks on the microphone and says "cabernet sauvignon". Soon results will appear for this search and he will click on one of them.
When entering the store and seeing the product, it is possible that he wants to do some more research, see wines of other values, other brands and even other types. If the store does not have a voice search, it will have to type in to search for more options.
On the other hand, if he enters the store and can continue to search for his voice, he continues to have the same experience and the buying journey becomes much higher.
Differential for the brand
When you offer new options and new technologies to the consumer, he sees immense value in this, recognizes that the company is investing in innovation and is concerned with delivering an excellent and differentiated shopping experience. This impacts your brand image and acts as a market differentiator.
Voice commerce x voice search: understand the difference
voice commerce ou voice shopping it is a way of making purchases using only your voice. Today, it is more common through the use of voice assistants.
In the USA, this is the fastest growing sales channel. The emergence of this habit has to do with the long distances between home and work, which has meant that many consumers have started to take advantage of this time to shop in the car while on the move.
Amazon invests a lot in this format, just like it did with recommendation system which is a great success story and still influences all e-commerce. Another sign that voice commerce is a trend that will continue to grow a lot.
But, despite all the convenience, this channel still has some problems, such as errors in the answers or even the lack of understanding of the request. In addition, voice assistants still do not have a date to activate voice commerce in Brazil.
Voice search within the virtual store, on the other hand, works perfectly, because it has all the smart search and is now available in Brazil. It is a great alternative for those who want to offer a shopping experience innovative and differentiated for customers.
SmartHint's intelligent search uses this technology and many virtual stores of different sizes and segments are already using it. Some examples are: Diesel, Wine, Philco e Surya Dental.
Do you also want to have a voice search in your store? Click here and talk to our consultant.
Written by: Tania d'Arc