Persona, or buyer persona, is the fictional character that represents the ideal customer of a company. This portrait presents the buyer's demographics, needs, pains, and wants. When creating a persona, it is essential to assemble a fictional representation of your customer that is as close to reality as possible. Create a type of resume of this ideal client, with their main information.
---
Learning how to create a persona will allow you to get to know in more depth the customers you really want to reach and who have the potential to become your customers. Thus, you can develop more assertive strategies to attract and retain them.
In addition, you can create custom campaigns, communicating directly with potential customers, instead of trying to shoot all over the place.
Read on to understand what it is and how to create a persona. Write down our tips and start reaching the right customers!
What is persona?
person, or buyer person, is the fictional character that represents the ideal customer of a company. This portrait presents the buyer's demographics, needs, pains, and wants.
The ideal consumer is one who has the needs and wants that your company can solve. Furthermore, it meets basic requirements for this, and purchasing power necessary to purchase the products or contract the services offered by the business.
It is also essential to consider the values ​​that the ideal customer has and that are shared by the company, the lifestyle e what he wants for the present and for the future.
From the creation of the persona, it is possible to understand:
which products and services you should consider when building your portfolio;

where and how to communicate with the customer;

which marketing actions are most interesting;

what is the ideal language for the website, social networks, email etc.;

what are the best selling points;

which channels you should be present on.
You may be wondering if all this is really necessary, so let's get to the data: according to the study Buyer Insights Benchmark, 71% of companies that exceed revenue targets and leadership use personas to guide your strategies.
This data shows us that having a persona increases the chances of succeeding in actions aimed at sales and increase of revenues.
Why create a persona?
Without personas, your company falls into the trap of trying to reach all consumer profiles and this is still a very common mistake, especially in retail.
At first glance, it may seem incredible to "sell to everyone", however, in practice, this makes you spend more to win a customer, developing less efficient and assertive marketing and sales actions, which will negatively impact the return on investment (ROI).
Knowing consumer desires who can make better use of their products brings benefits such as:
increased return on investment (ROI);

increase in

average ticket

;

best rates

Customer Loyalty

;

ease of adapting the tone of voice and language of communication;

deliver

contents

of value;

identify which communication channels to use.
Understanding who your company's persona is will also allow you to choose products that are more in line with what she wants to buy, which of course can boost your revenue.
What is the difference between persona and target audience?
Audience is a more superficial concept than the buyer persona. When defining the target audience, the company does not seek such in-depth information about the customer, it usually limits itself to demographic information, such as gender, age, and location.
Differences between buyer persona and brand persona
When we talk about how to create a brand persona, we are referring to the customization of brand. This means that we are using human characteristics and desires to define a business and not a customer.
When you say a company is modern, fun and concerned with sustainability, is an example of a brand persona being built.
This is done so that customers can identify with the company, with its values ​​and characteristics, and identify and approach it.
How to create a persona
When creating a persona, it is critical assemble a fictitious representation of your customer, which is as close to reality as possible.
create a type of curriculum of this ideal client, with information such as:
Name;

age;

interests;

skills;

fears and frustrations;

personality traits;

goals;

brief biography.
With this information organized, you will have a Detailed Description of a consumer that represents the public to which you should direct your efforts, in search of greater assertiveness in the results of marketing, sales and service actions.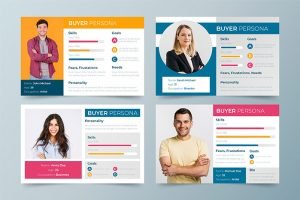 But, after all, how to assemble your company's persona? Some practical tips will help you achieve this goal. Check it out below.
Survey your best customers

Organize the collected data

Create the persona profile

share with the team
Survey your best customers
The best way to build a company's persona(s) is using the consumers themselves.
Therefore, select your best buyers: with the highest average ticket, who engage with your content and have good satisfaction rates.
It's also interesting that you talk to your team, from marketers, sales, service and customer success.
Note the company indicators and use market research to dig deeper into your data.
Of course, newly founded companies that don't have customers yet end up having to use only market information to create their personas. Be that as it may, in a commercial strategy of customer centricity, where the customer is at the center of all processes, the definition of the persona is important from the first moment.
Some questions that may appear in the questionnaire that will be applied to consumers include:
demographic questions;

professional questions;

questions about content;

purchasing and consumption habits;

relationship with the brand;

questions about behaviors and interests.
Organize the collected data
With all the information in hand, it's time to organize the data. Try to identify what information is common among customers, what the market says about the sector and what the company's indicators show.
Create the persona profile
With the data organized, you'll have what you need to assemble the company persona, understanding their needs, desires, goals and characteristics.
This is what you need to start creating marketing, sales and service strategies that attract and retain the right customers.
A supportive hardware that can help you a lot in this process is the empathy map. It allows you to create the persona based on their perceptions, purchase journey and feelings.
The empathy map uses 6 questions to create your company's buyer persona:
1) What do you think and feel?
2) What do you listen to?
3) What do you say and do?
4) What do you see?
5) What are her pains?
6) What are your earnings?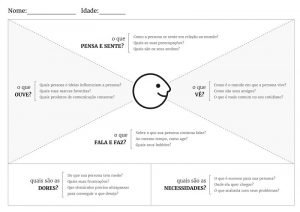 Then you must organize the answers by creating a complete customer profile.
share with the team
The entire company team must know the business persona, only then will the marketing, sales and customer success actions be aligned and integrated.
Read also: What is retargeting and how to apply it in e-commerce?
Improve buyer personas experience
Learning how to create a persona is very much related to the need that companies have to improve the relationship with your customers, personalizing communication and offering best experiences to them.
These should be goals of all companies, at all stages of the consumer journey.
If you want to improve shopping experience of the customer, in addition to knowing the persona, it is important to have technologies for personalizing the experience. At SmartHint tools are examples of this.
Discover SmartHint technology and understand how to use it to improve experience in your e-commerce, retain customers and generate more sales.