Image search technology works through image recognition with artificial intelligence. The person simply uploads an image or takes a photo of what they want to search to find results that are the same or very similar to what they searched for.
---
With advances in technology, the internet and electronic devices, our society is increasingly visual. Therefore, the image search is an increasingly high trend, being a reality for the daily lives of thousands of Google users and other search engines.
In addition to the visual feature being very familiar to users today, it also helps make the much more assertive search e direct, impacting the user experience. After all, just upload an image or take a photo of what you want to search for and you will find results that are the same or very similar to what you were looking for.
Therefore, it also became a reality in the E-commerce, facilitating searches and raising the shopping experience of consumers. Thus, this technology is capable of bringing many benefits to virtual stores.
Want to learn more about these benefits and image search technology? Check out what we have separated for you in the following topics:
What is image search?
Image search is a way to search for information, products or other things through images, without having to type anything in the search field. That way, instead of telling the characteristics of what you're looking for using words, you use the images and the characteristics present in them. Thus, you can find other similar images or other types of content.
This feature is widely used in search engines such as Google and Bing, and is also increasingly present in ecommerce, as it facilitates the search for specific products, making the much more assertive search.
E-commerce giants like Amazon and eBay have this feature in their apps. but it already exists tech accessible to websites virtual stores of all sizes, which works on both desktop and mobile. This innovation is made available by SmartHint. Get to know!
How to search by image on Google
Searching for images on Google is very simple and easy and works more or less like any other site that has this feature. But if you've never done it before, check out the step-by-step guide below to do it from your cell phone or desktop computer.
On the cellphone
If your mobile phone uses Google Chrome as the default browser, you can use the image search in the Google search field, which appears on the main screen (as shown in the image). Otherwise, you will need to access Google's own app.
In both cases, just click on the camera icon and the search will be done by the Google Lens, a super advanced feature that lets you snap a picture right away or upload an image you already have to search. With it, you can search and translate texts, search for general information, about places, food and shopping.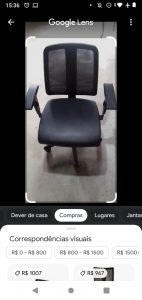 On the computer
To perform Google image searches using a computer, go to the Google website and click Pictures, at the top right corner.
Then click on the camera icon.

Once that's done, you'll have two options to find the images: paste the URL of the image or upload it (if it's saved on your device). After that, just click on the button search by image.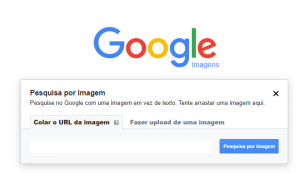 Let's say you want to find out the name of a plant. In that case, you can take a picture and upload it to Google to try to find out and even get other information about it. You can also choose the section you want to search in: All, Images, Maps, Shopping, News, Videos, etc.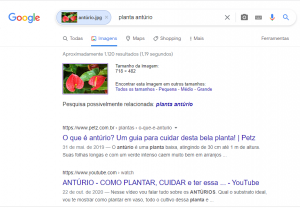 How to Increase Traffic with Google Image Search
As we said, the visual searches are increasingly on the rise and this can be a great opportunity to increase the organic traffic of your website. However, it is necessary to take some care and take into account some principles of SEO (search engine optimization) so that users find the images of your site and consequently access it, generating more traffic.
In addition, another possibility is for the user to search by typing normally, but focused on finding images. For both cases, some points of attention are essential. Check out the main ones below.
Insert relevant information next to the image

Name the file properly

Use quality images

Have a responsive or mobile website
Insert relevant information next to the image
All images on your site should have relevant and detailed information related to the subject they portray, as this helps algorithms identify if your images are really a good fit for what the user is looking for.
This information can be present in the caption or in the body of the text, next to the image.
If you have an e-commerce, this care is even more important. Enter as many features as possible about the products and about the purchase, such as name, model, material, brand, ratings, information about freight, delivery, exchanges and returns etc.
Name the file properly
Whenever we save an image on the computer, it is automatically saved with a random name. But the most recommended thing in SEO is that the name of this image is appropriate and related to what it represents. And, preferably, use a keyword with good search volume, so you'll have a better chance of appearing in the first search results.
Use quality images
A photo quality is something very important, because the algorithm better identifies high resolution images. And, in addition, it is essential to guarantee an excellent user experience, who will be able to see more details and know if your images really are what they are looking for.
However, despite having high quality, all images and videos should be optimized and with the least possible weight — as long as it doesn't affect the resolution. Otherwise, your site will be too heavy and it will take longer for pages to load, which is very bad for SEO and also for the experience.
Have a responsive or mobile website
Most users today access the Internet through mobile devices, therefore, it is essential to have a responsive website or a 100% mobile-focused version of it. This is a more general care in relation to SEO, but it also ensures that the images are always suitable for the size of each screen, contributing once again to the experience and increasing the chances of the user clicking on it and going to your website.
How does image search work in the online store?
The search by image within an e-commerce works through image recognition com artificial intelligence. She is usually part of the smart search, a technology that brings together essential characteristics for an efficient search, such as: high speed; phonetic similarity; automated color search; personalized behavioral search; voice search; and the image search itself.
Image search works like this: when a photo is loaded into the search, the intelligence encodes the information present in that image — such as shape, color, texture — and searches its database for images with the same or as similar information as possible.
And when there is more than one object in the image, the artificial intelligence is also able to search all of them and show results relevant to that search.
How about finding out more about smart search and the other features of this technology? Check the text: What is smart search and why have it in my e-commerce?
How to search by image in the online store
If you want to know how to search by image within a shop, it's very simple. See below an example of a search by image in the e-commerce of Diesel.
Just go to the search field and click on the camera icon: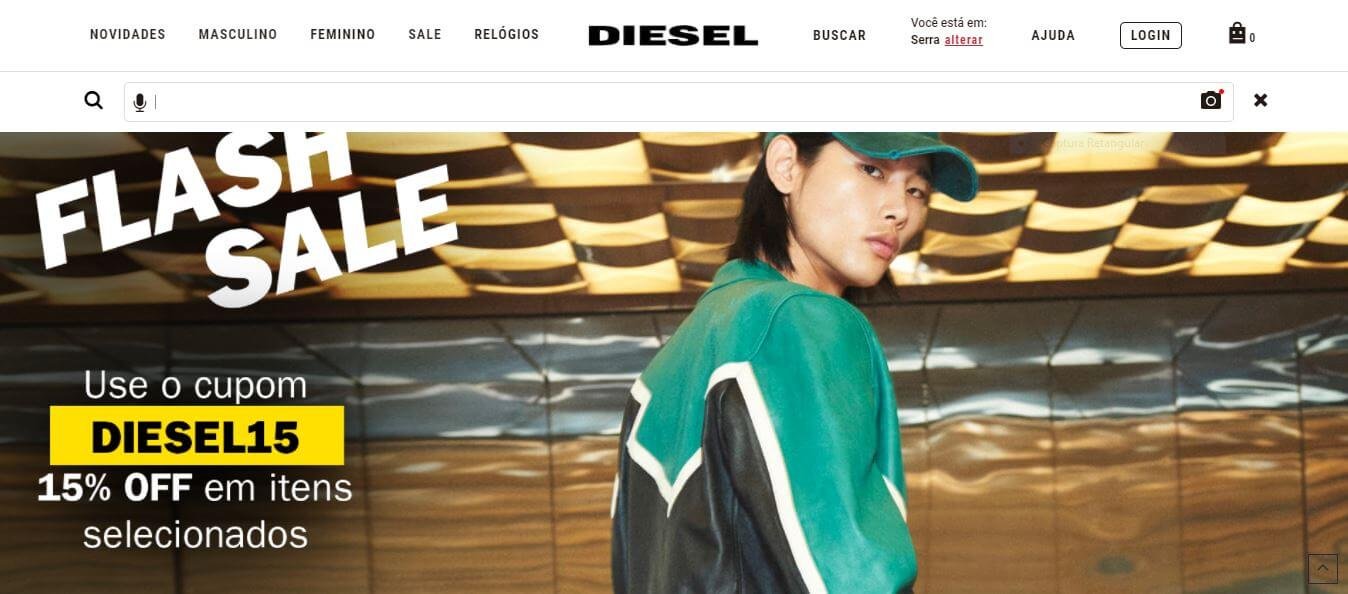 This can be done on the desktop, as shown in the previous image, or on mobile, as below: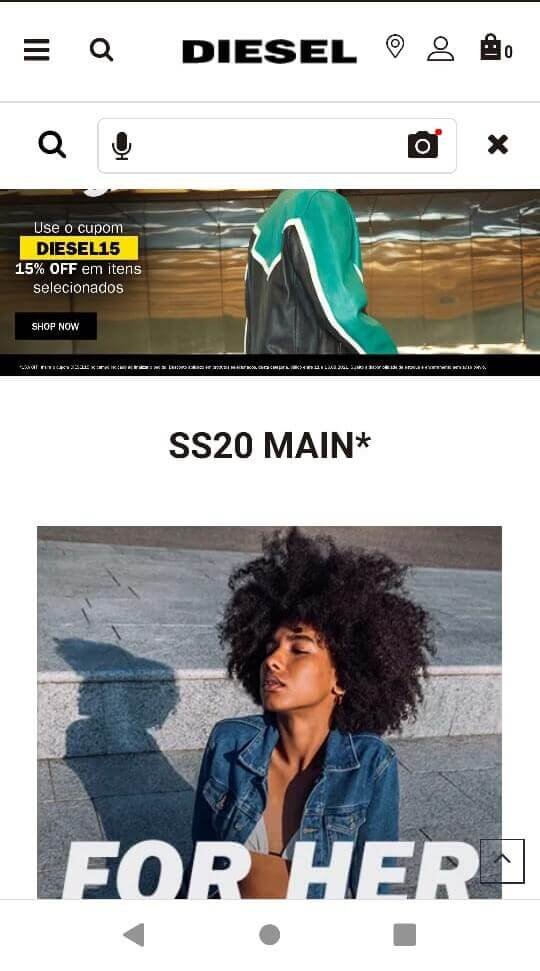 After clicking on the icon, just select the image you want to search and upload. Then, artificial intelligence will analyze it and bring the most relevant results.
See that, in the example below, the consumer searched for a black shirt and, in a few seconds, received very similar results: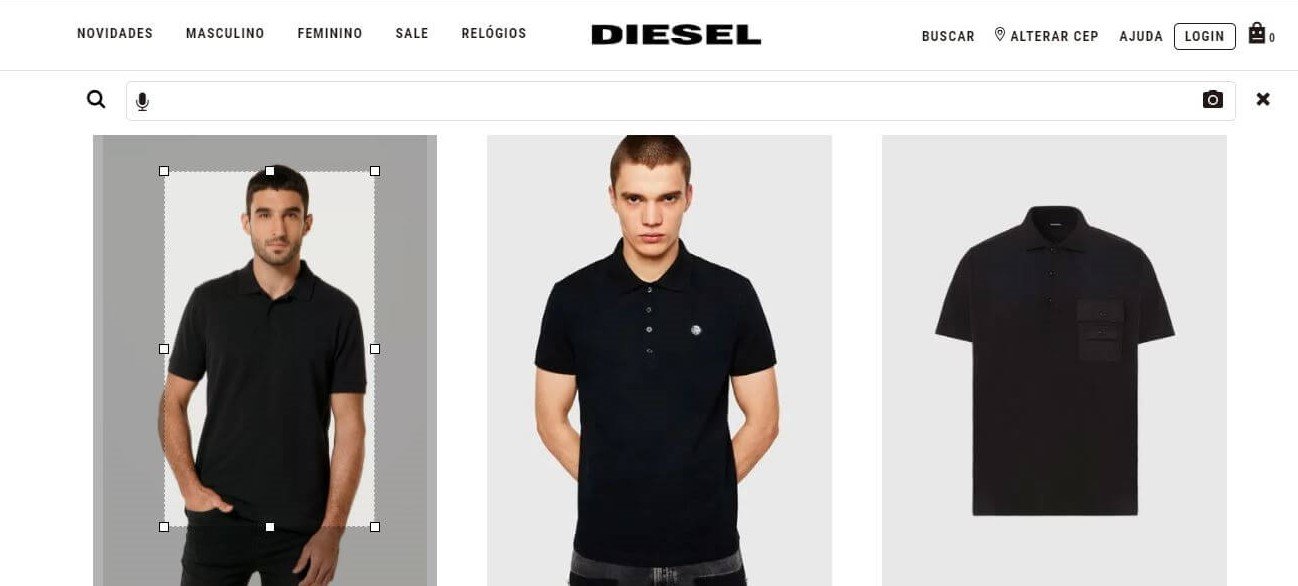 But beyond that, he can select whatever intelligence looks for in the image. If you want to search for the entire look, for example, just select the entire part of the image that contains the shirt and pants. Thus, you will get results for both parts.
6 benefits of visual search for e-commerce
You may have heard that "a picture is worth a thousand words" and when it comes to internet searches this is even more true. Offering this possibility to the consumer within your virtual store can bring numerous advantages to your business.
Briefly, the main benefits of image search for e-commerce are:
1) Ease of searching for products
2) More assertiveness in search results
3) Possibility of finding more than one object
4) Greater customization in searches
5) Better shopping experience
6) Differential for the brand
1) Ease of searching for products
Searching by image makes it much easier to search for products, especially for those consumers who want a specific model. After all, it is much easier to upload a single image in the search field than having to type in all the information about the desired item.
2) More assertiveness in search results
Still thinking about that more decisive consumer, who knows exactly what he wants, it is much more assertive for him to search for the product using the image search, as artificial intelligence identifies all the characteristics of that item and brings the most relevant results closer to what was automatically searched.
Imagine, for example, that she is looking for a pair of pants, but doesn't know exactly what the name of that fabric is. With image search, she doesn't have to worry about that, as the AI ​​does this work itself.
3) Possibility of finding more than one object
The search by image in e-commerce is also excellent for cases where the customer wants to buy the complete look. So he doesn't need to search item by item, just upload the photo with the desired look and the AI ​​will show the same or similar products.
4) Greater customization in searches
With image search, searches are much more personalized, as consumers are free to upload the photos they want and find the most relevant results quickly and conveniently.
5) Better shopping experience
Another benefit of visual search within e-commerce is to ensure a better shopping experience, after all, everything we have listed so far contributes to this: ease; assertiveness; possibility of finding more than one item; and personalization.
6) Differential for the brand
Although visual search is growing a lot and becoming a habit in consumers' lives, not all virtual stores have this feature. Therefore, having an innovative technology like this is a great differentiator for your brand and will make it much more competitive.
Conclusion
The search for image is another one of the technologies that came to revolutionize e transform online sales, as it facilitates and optimizes searches.
Thus, it helps to elevate the shopping experience and also brings numerous benefits to the virtual store, increasing conversion rates and decreasing bounce rates, cart abandonment, among other metrics that hurt business.
Discover SmartHint's image search!
Written by: Tania d'Arc