"How to leverage my business online?" This is the question that haunts the minds of millions of entrepreneurs who have chosen online platforms. So if this concern is also yours, rest assured, because you are not alone.
According to data from Neotrustin 2021, the Brazilian e-commerce recorded the invoicing of R $ 161 billion, One high of 27% compared to 2020 — which had already been a record year for the sector, experiencing growth of 73,88%, according to the index MCC-ENET.
Faced with such expressive numbers, millions of entrepreneurs created their virtual stores looking to gain a share of the market. In 2021, data collected by a PayPal and BigData Corp research indicated that the number of sites in the online retail reached 1,59 million.
Of this amount, 52,73% have revenues of up to R$250 thousand per year. These stores are considered medium-sized, receiving between 10 and 500 visitors per month.
good news for entrepreneurs that lead businesses like these is that, even with competition from multinationals and marketplaces, there was an important growth in the share of these stores, which went from 2,5% in 2020 to 9,92% of the total in 2021.
This means that medium and small stores can conquer larger spaces in the digital market, but for that it is necessary to understand how to boost online sales.
How to improve online sales?
Some merchants believe that paid ads (on channels like Google Ads and Facebook Ads) are the only way to leverage the e-commerce conversion rates. If you are one of them, know that you could be losing money and the opportunity to increase your online sales by focusing on just one strategy.
The first reason for this is related to the financial capacity of large stores do digital retail, that have more capital to invest and compete for available advertising space.
You also need to consider that it's not enough to create an ad that takes users to your store if visitors don't buy the product. When this happens, you pay for the click (after all, online ads are usually charged on a cost-per-click model), but you do not have the expected financial return and will need to invest even more in actions to reach the same user (in remarketing).
Therefore, to seek alternatives that increase the sales conversion e which reduce customer acquisition cost (CAC) is a smart way for mid and small business managers online.
This does not mean stopping ad campaigns, but rather make the most of what they have to offer.
You might be wondering then "How to leverage my business on the internet, anyway?" Below, we've created a list of strategies that will answer that question. Check out!
How to leverage my business on the internet?
Discover the solutions below leverage your business online.
Refine your ad campaign targeting

Start capturing leads and sending emails that convert

Showcase your products with recommendation windows

Make buyer search easier with smart search

Bet on retention popups
1. Refine your ad campaign targeting
As we said above, ads are not the only way to win customers, but they are among the most used and, of course, they are mandatory in online sales strategies. However, it is essential to assess how campaigns are being created and executed.
One of the great differentials of online advertisements in relation to traditional models is the ability to segment the audience that will be impacted, which generates more clicks and greater chances of conversion.
So, before you start creating your ads, get to know your person and the profile of your ideal customer and understand the different stages of purchase day where he might be. In addition, it is important to define his interests, behaviors and needs.
With this information in hand, you can create highly targeted campaigns. Thus, you increase your chances of converting sales, achieve a higher return on investment (ROI) and reduce CAC.
Soon, the audience targeting in ads optimizes the return you will get from each campaign, allowing you to make better use of every penny spent.
Another tip is to also invest in Google Shopping ads and retargeting.
2. Start capturing leads and sending emails that convert
Once users are in your e-commerce it is important that you convert into leads.
Leads are people who provide personal and contact information for your company. This is usually in exchange for access to some benefit, such as discount coupon, free shipping on the first purchase, among others.
A visitor is not always ready to buy at that exact moment. Therefore, capturing your data is essential to keep the relationship — which may be established with the use of channels other than just advertisements, for example, by email marketing, SMS and WhatsApp. This contact can be maintained through loyalty programs and inbound marketing e inbound commerce.
This all increases the chances of that consumer considering your company when deciding to complete a purchase.
3. Showcase your products with recommendation windows
Recommendation showcases are essential to boost online sales, because they highlight some items from the product catalog your store.
It is possible to create virtual showcases with launches, goods related to those being sought by the buyer and top selling products, For example.
Furthermore, with the support of a artificial intelligence (AI), it is also feasible to create freestanding showcases and personalized for each consumer, according to their browsing behavior within your site. Thus, you highlight the products that the customer is looking for and increase the chances of purchase.
Want to know 4 reasons to use smart recommendation windows in your online store? Then check out our video!
Now, get to know the success story of Diesel and discover how the brand increased conversion rate by 120% in just one month, using SmartHint showcases!
4. Make Buyer Search Easy with Smart Search
A smart search is a feature that uses artificial intelligence to understand user behavior and help you find what you are looking for.
With it, it is possible to deliver results with more speed, assertiveness and more relevant and custom for each client.
By doing this, the functionality increases the chances of purchase, after all, the customer finds what he needs very quickly. Thus, intelligent search contributes to a better user experience.
Among the features offered are:
SmartHint is a pioneer in the development of this tech for e-commerce. Meet our smart search!
5. Bet on retention popups
Os retention pop-ups they are windows that appear at strategic moments of navigation. And they can be used at different stages of the buying journey.
For example, when a customer builds a shopping cart, but then clicks the mouse to close the website tab, the retention popup can bet on the scarcity mental trigger and offer some kind of discount for the immediate completion of that purchase, in addition to convincing the user to stay in the store.
See below an example of this type of strategy with the SmartHint retention popups, in the store redhead beauty.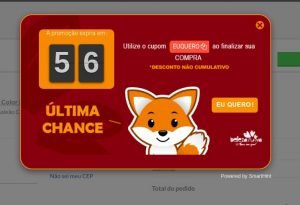 Those pop-ups they may also appear at other times, such as at the beginning of navigation and on product pages. In the latter case, you can offer a lightning promotion using the mental trigger of urgency to stimulate the purchase.
Mental triggers are external elements that produce rautomatic emotional reactions in human beings that can lead the user to take a decision.
Learn more: Mental Triggers for Online Sales: 5 Examples That Get Results!
3 creative ideas to increase sales
To close this article, how about knowing other actions to increase conversion rates, taking alternative paths to stand out among potential consumers?
Check out 3 creative ideas to increase your sales below.
use storytelling
Partner with digital influencers
Create loyalty programs
Use storytelling to tell stories
Use the storytelling to tell stories to customers and make them identify with the brand. Social networks, blogs and videos are excellent channels for this. However, all marketing platforms can help by sparking curiosity — including paid ads.
Partner with digital influencers
Partner with digital influencers that dialogue with their public and publicize the brand and its products. You can use them to present new releases, share usage tips and even advertise special and exclusive promotions.
Create loyalty programs
Create Loyalty Programs and offer benefits to consumers who come back for more purchases in your shop. Some options are cashback, special discounts, free shipping, among others.
Read also: 16 ways to retain customers in your business.
How to leverage my business on the internet? extra suggestion
As you've seen, marketing and sales actions go far beyond online ads, as important as they are. So, to finish this guide on how to improve online sales, we brought an extra tip, but indispensable for good results: monitoring of strategic indicators (KPIs).
Keeping track of your online store's KPIs helps identify the flaws that are holding you back, as well as looking for opportunities that can drive your conversions. With this, you can act directly to solve these bottlenecks and take advantage of gaps in growth.
Without data, you are left in the dark in the search for optimizing the company's results. So if you want leverage your business online and compete for the market even with the big players, the strategic use of indicators is vital.
So that you know what are the main KPIs of your store, we created a complete and free infographic: 10 e-commerce indicators for you to track.
Download and discover which are the main metrics and KPIs to monitor inside your virtual store and evaluate the performance of your business.
Also get to know SmartHint and all the our solutions to improve the shopping experience and generate more sales within your virtual store.