Mental triggers are stimuli that the mind receives to facilitate the decision-making process. Through impulses, the brain delegates to the unconscious a series of everyday choices, to save effort and energy, which are directed towards more complex decisions.
---
You know that little push the customer needs to complete a purchase? It is possible to give it using powerful mental triggers for online sales. These stimuli, however, can do much more than that, acting actively in the quest to increase their conversion rates.
But after all, what is a mental trigger and how to use it in a marketing and sales strategy? Read on and discover these and other answers.
What is a mental trigger?
Mental triggers are stimuli that the mind receives to facilitate the decision-making process. Through impulses, the brain delegates to the unconscious a series of everyday choices, to save effort and energy, which are directed towards more complex decisions.
Within companies, it is possible to use mental triggers for sales, making the buying decision be driven by the unconscious, from the use of the correct stimuli.
The trigger is powerful because in addition to stimulating the purchase, it encourages immediate conversion.
There is a long list of mental triggers, and some of them are very relevant to online sales.
Curious? So keep reading and find out how to use and what are the main examples of mental triggers for sales.
How to include mental triggers and increase conversion rate?
Mental triggers can be used in all channels, formats and content types that your company produces to relate to consumers, influencing the increase in conversion rates.
For example, it is possible to use mental triggers within the product pages of an e-commerce to encourage the buyer to make the immediate purchase.
One way to do this is to put a time counter that indicates that the offer presented will soon be sold out.
It is also possible to use mental triggers in content production, by sharing news and exclusive releases. This can be done in several channels such as:
site;

e-mail marketing;

social media;

retention popups;

store windows;

sales pages.
In short, it is possible to provoke stimuli that will direct customers to purchase, helping to increase conversion, in all channels of communication and relationship between the brand and its customers.
5 examples of mental triggers for online sales
Now it's time to get your hands dirty! Next, we organize a list com 5 examples of mental triggers for online sales. Check it out!
1) Scarcity
2) Urgency
3) Social proof
4) Novelty
5) Reciprocity
1) Scarcity
The scarcity trigger stimulates decisions around something that is rare or that may end. Thus, it generates a certain fear in the consumer of miss an opportunity and have access to something exclusive.
Within an e-commerce, it is possible to use this mental trigger for online sales on product that indicate that a particular item has few units available.
It feeling that something might end or that only a few people were able to access that item, generates a purchase stimulus, driven by the desire to own something special.
Remember to include something on your product pages to indicate that stock may run out at any time.
In an email marketing, you can use the argument that the number of buyers who will have access to an offer is limited, for example: "offer valid for the first 10 buyers".
2) Urgency
Urgency is a mental trigger that works similarly to scarcity because it encourages the immediacy of purchase.
Furthermore, it awakens in the consumer the worry about losing something important, unique, and of value.
However, unlike the scarcity that works with the quantity of products, the urgency focuses on stimulating the purchase by the time limit of the offer.
Some examples of trigger usage are: "offer valid until Thursday (March 10)" or "you have 5 minutes to complete the purchase and receive a 10% discount on your order".
The offer does not always have to be related to price, but also to other advantages such as exclusive gifts.
Whether using a scarcity trigger or an urgency trigger, you can count on the help of retention pop-ups who will present the offers highlighted on the site, for purchases made just that day or in the next few minutes, for example.
Use the feature to enforce the timeout of promotions and other advantages to which the customer will have access.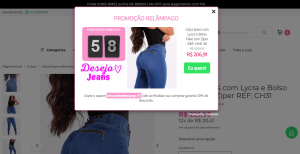 Retention pop-ups appear at strategic moments in order to retain the customer in the virtual store and increase the chances of conversion. Learn more about this feature!
3) Social proof
Online consumers don't want to be ripped off and are afraid to buy a low quality product or from a company that doesn't deliver the item on time.
By using social proof as mental triggers for online sales, you offer customer security, but in addition, use the other people's opinion to encourage a purchase.
The opinion of third parties is a very relevant element for decision-making and can stimulate the conclusion of a deal, conveying the necessary security to a consumer who is in doubt about a particular product.
The use of digital influencers can be an alternative for those who want to expand their reach and convert more customers, using social proof as an ally.
However, other options are available to e-commerce managers, including the use of Reviews within product pages.
These assessments can be through resources such as number of stars for a certain item or even reviews left in reviews by other buyers.
Another way to apply this example of a mental trigger in your strategy is to use recommendation windows with most viewed, best-selling products or what other customers are buying. After all, this is also a way to share social approval about the item.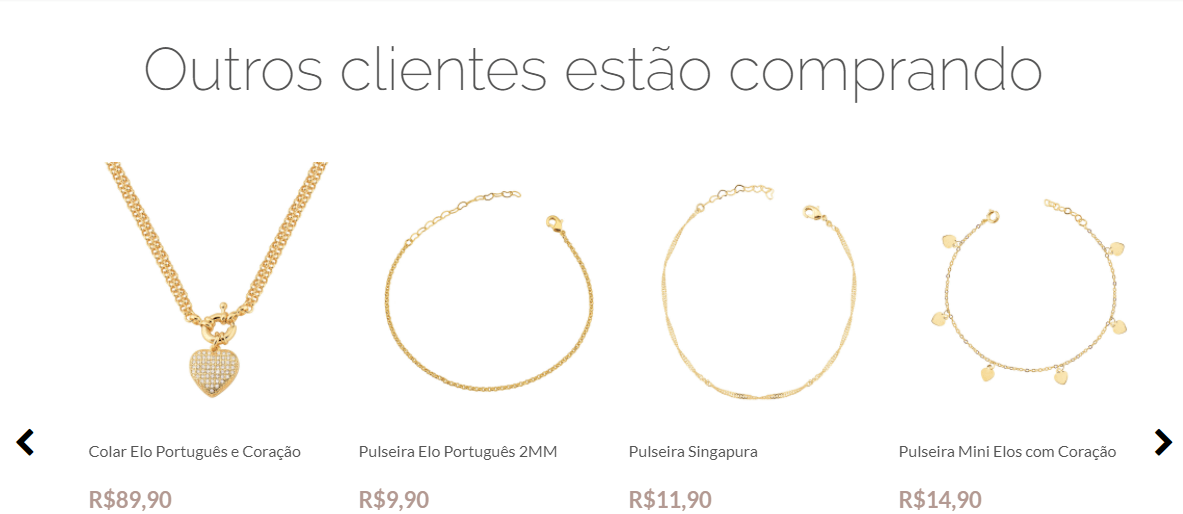 Read also: What is and what makes a smart recommendation showcase?
4) Novelty
As smart shop windows they can also be used for other types of mental triggers, such as using novelty to attract consumers. Include, for example, a window displaying the releases from your store.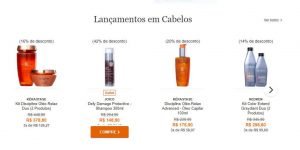 Novelties always arouse the interest and curiosity of consumers and, therefore, are a type of stimulus that you should consider using.
5) Reciprocity
It is common for people, when receiving something from someone, to have the impulse to return the favor. But, how to use it within the e-commerce strategies?
The mental trigger of reciprocity brings a medium or long term return and is closely related to your company's ability to establish relationships with consumers, in addition to buying and selling speeches.
More and more consumers want to have good experiences and that includes the relationship they build with brands. In fact, according to one Zendesk report About the subject, 75% of customers are willing to spend more with companies that provide a good EXPERIENCE to the client.
That said, the reciprocity trigger can be used from actions that involve gifts, discount coupons and special messages on commemorative dates, such as the customer's birthday, for example.
On special dates, invest in gifts and send personalized messages.
Throughout the year, contribute to customer success. After sales, for example, you can encourage a future repurchase by sharing relevant content about the use of the purchased product, contributing to the customer success.
This generates a feeling of gratitude, which encourages the consumer to think of you when they need to buy again.
Conclusion
The use of mental triggers for online sale should prioritize user experience, on all channels.
One of the ways to achieve this is through T and the correct use of tools who will, at the same time, improve the shopping experience customer and increase conversion rates.
count on the SmartHint tools to generate these results for your store. Among the features offered are smart search; recommendation windows; retention pop-ups; and the hotsites. Discover our technology and understand how to use it to generate more sales in your e-commerce.