Discover 6 online sales strategies for your e-commerce
Online sales strategies for e-commerce: discover 6 ways to increase the sales of your online store and boost your online business in a simple and incredible way. These are strategies related to attracting traffic, shopping experience and customer relationship.
Increasingly, the ecommerce it has been experiencing rapid growth, but this market is dynamic and new trends appear almost daily. In addition, competition on the internet is very large and consumers have more and more options and information, literally, in the palm of their hand. Therefore, it is necessary to invest in the right strategies.
Thinking about helping to leverage your business, we prepared this text with 6 online sales strategies for e-commerce:
6) Count on a recommendation system
Check it out!
1) Appear on social networks
To be present on social networks, such as Instagram and Facebook, it is very important for the visibility of the brand and for the relationship with the clients. So it is certainly one of the main online sales strategies for e-commerce.
It is not necessary to be at all: just understand the profile of your consumer and invest well in one or some of them.
This channel can be used to:
share content of interest to your audience;

publicize the products or a new line;

promote promotions;

communicate news or changes in attendance, delivery etc.
And don't forget to keep the addresses of your online store visible on these channels.
2) Bet on paid media
Another important online sales strategy is to bet on paid mediaAs Google Ads, Facebook Ads and Instagram Ads.
They serve to increase your exposure on the internet, whether on Google, within social networks, applications or even within third party websites. Increase the Bandwidth to your website and have a large and immediate reach.
If they are important for physical stores, imagine for stores that have the digital world as a habitat.
3) Invest in SEO techniques
Investing in Techniques of SEO (search engine optimization) is also a way of increase traffic of your store and an online sales strategy, because it improves the positioning of your website in search engines such as Google.
You receive more visits without paying for it and attracts more visitors engaged and likely to buy.
Check out some SEO techniques that should be taken into account to optimize your online store.
Friendly URLs
It is important that all the URLs on your site are friendly - that is, without unreadable numbers and letters - and also that they contain the keyword chosen for that page.
Meta title and meta description
All pages on your site must have meta title and meta description with the keyword you want to rank.
Responsiveness
It is essential that your website is available and presentable on any type of device, adapting the layout according to the size of the screen on which it is accessed, be it desktop, smartphone or tablet. Remembering that this also interferes with the experience inside the store.
Speed
Your website should load pages quickly, otherwise the customer may want to leave the store, increasing the bounce rate and influencing ranking.
Internal Links
Through the internal links you can direct the user to other pages within your site and, with that, make them spend more time inside it. But it is important that these links are related to the content or product of the page on which they are inserted.
Keywords
Research what keywords are most used by your audience to search for what you offer and use them in page titles and subtitles, in product descriptions, URLs, content, etc. But be careful: you should only explore one keyword per URL.
Content marketing focused on SEO
Investing in content marketing of quality, on your website or on a blog, is a great way to to attract your audience, engage you with your brand and win authority on the Internet.
Authority is one of Google's ranking criteria, so it can also help you gain greater visibility. But to appear in the first search results with your content, you must follow all the SEO guidelines mentioned above.
Optimized images
The images must be of adequate size and must be optimized so that they do not become too heavy, which makes it difficult to load the site and ends up interfering in the ranking.
4) Bet on retention pop-ups
Another good online selling strategy for draw attention of its customers is to bet on retention pop-ups. The idea is to show relevant products to him and even offer some discount when he shows that he is going to abandon the store or the shopping cart.
There are pop-ups that offer the countdown discount, this increases the chances of conversion, because it awakens the feeling of urgency on the customer and makes them not want to miss the offer.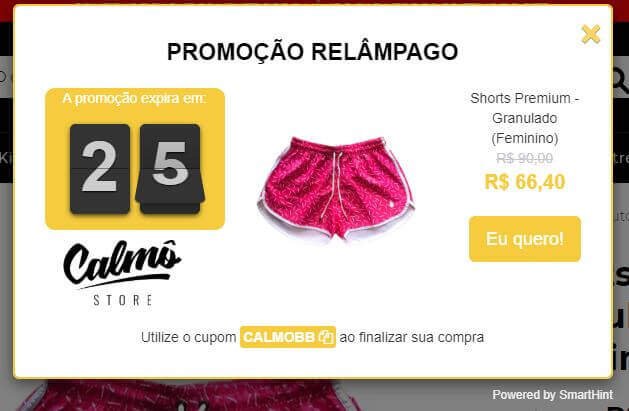 5) Have a smart search
The search field is responsible for 60% of Sales Onlinetherefore investing in a smart search it is an excellent strategy and a great opportunity to improve online sales.
This technology has:
According to Amazon, every 100 milliseconds of delay, as sales fall 1%. Therefore, the faster your search, the greater your sales.
It is important to have a search that recognizes the similarity of sound and writing between words, so even if the customer types the product name with the wrong spelling, it will be found. Remember: the responsibility to show the products is always the merchant's. If the user does not find what he is looking for, he will look for it on another site.
There are customers looking for a specific color object. Have one search that identifies the color of the image automatically, through image recognition, regardless of whether it is registered in the name or description of the product, is a differential that can make all the difference and contribute to closing the purchase.
Today, with artificial intelligence, it's possible customize even the search inside the virtual store, based on the behavioral analysis navigation of user. That is, clicks, searches, everything the person does inside the store is taken into account. If she clicked pictures of running shoes, for example, when typing "tennis" in the search, the first results will be running shoes. This increases the chances of conversionbecause it shows what really matters to the consumer.
Having a resource like this inside the virtual store facilitates and speeds up the shopping journey, because in addition to being faster, the customer does not need to type anything, just click on the microphone and say what he wants. It is a great choice for products with difficult to write and / or foreign names. In addition, as it is a new technology on the market, it is a differential for your brand.
6) Count on a recommendation system
Having a recommendation system active in your store is super important to raise the EXPERIENCE consumer, as it facilitates the purchase journey and, consequently, decision-making. So it is one of the main online sales strategies.
In it, the recommendation showcases, or smart shop windowsAs "Most viewed", "Most purchased", "Recommended for you", "What others are buying", "Launches", they select and suggest the most relevant or relevant products for each customer, so it doesn't take hours to decide what to buy.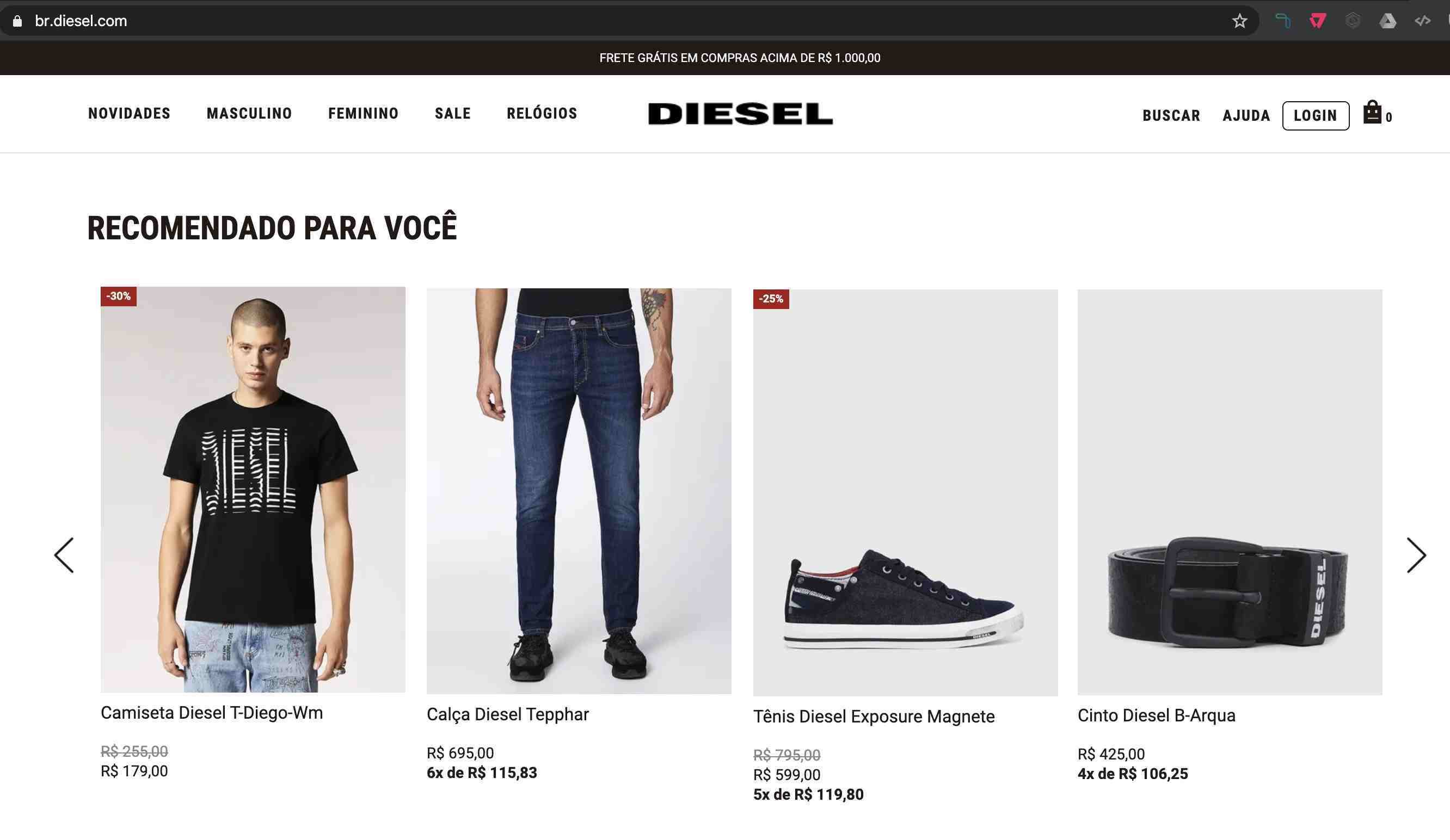 Some recommendations also help to increase the value of average ticket, as they suggest the joint purchase of complementary products.
More online sales strategies for your e-commerce
Did you like the tips? So, how about knowing more strategies? Download our e-book and check it out 17 online sales strategies that will boost your e-commerce!