Personalization is a strategy that bets on the exclusivity and individuality of people to offer targeted and more assertive products, services or experiences. Therefore, it is increasingly common to see personalization in virtual stores as a sales strategy. To customize, it is necessary to identify traits, characteristics and needs of individuals and, based on that, offer tailor-made solutions.
---
In a world as globalized as ours, permeated by large-scale production and a flood of information at all times, it is difficult to offer something new and differentiated to the consumer.
In this context, customization emerges as a strategy to stop doing more of the same and attract people's attention, making them feel special and unique.
Want to know more about it? So read on and learn all about personalization and how to apply it in e-commerce.
What is personalization?
Personalization is a strategy that bets on exclusivity and individuality of people to offer targeted and more assertive products, services or experiences.
Therefore, we can say that personalization is the opposite of generalization and it goes to the opposite side of mass communications, which treat all individuals in the same way.
To personalize it is necessary to identify traits, characteristics and needs and, based on that, segment and offer bespoke solutions for each person or specific group of people.
Types of customization
There are many possibilities for customization. These are strategies that can complement each other and often go hand in hand. Check out the main ones below.
product customization

Content customization

Personalization of service

Navigation customization

Experience customization
product customization
The personalization of products allows the consumer to customize an object, inserting prints, colors, material, sayings, models and whatever else their imagination allows according to their desire.
In some cases, it is possible to scale personalization, offering products with names of people, teams, cities, bands, etc. A great example of a scalable personalization action is Coca-Cola cans with proper names or letters of the alphabet indicating the initials of names.
Content customization
The personalization of content is closely linked to digital marketing actions and inbound marketing. It is about the development and distribution of segmented and targeted content for groups of people and specific pains, taking into account personal and professional information, market data, navigation data and stage in the purchase journey.
Personalization of service
The personalization of service is a strategy bias that seeks to meet the needs and desires of each customer individually. As well as content personalization, in this case it is necessary segment the audience in groups, analyze all possible data and information and thus create personalized services.
Another very common way to personalize service is to call each customer by their first name and use language appropriate for their reality, also showing proximity.
Read also: Cohort Analysis: How to use group analysis to improve your results.
Navigation customization
Through data analysis and, in many cases, the use of artificial intelligence e big data, we also have the customization of navigation in Internet. She is present in social networks, search engines (Google), streaming services (Netflix, Spotify), virtual stores, among others.
This strategy takes into account the browsing history and the behavior of the user on the internet and, based on that, shows and recommends content, ads, products and other relevant items.
See an example of personalization in e-commerce, in the image of recommendation window below.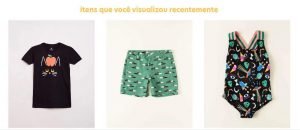 Want to know 4 reasons to use smart windows in your online store? Then check out our video!
Experience customization
Already the personalization of experience can refer to each of the types mentioned above — since everything is experience — or to the union of two or more types of personalization present throughout the entirety of the experience. user experience with a brand or institution.
Read also: User experience: what it is, how to do it and how to optimize.
Why customize the e-commerce experience?
Personalization is an increasingly necessary feature in the market, but in the online retail and in other digital businesses, this is even more imperative to stand out from the competition. After all, consumers have access to all kinds of information and can compare prices, products, purchase conditions and payment options very easily.
What are the advantages of personalization for an online store?
Discover below the main advantages of personalization for virtual stores.
Improved shopping experience

Increase in conversion rate

Customer loyalty

Promoters for the brand
Improved shopping experience
The personalization in E-commerce makes the consumer feel unique and special, in addition to, in many cases, facilitating the purchase journey. All this contributes to the shopping experience of it is positive and unforgettable.
Learn more: Shopping experience: 11 tips to boost your sales.
Increase in conversion rate
Personalization in e-commerce also influences the increase in rate of sales conversion, as it acts on the client's pain and offers him the best solution to the problem. This consequently also reduces the bounce rate and the cart abandonment, increasing store revenue and return on investment.
Customer loyalty
Another advantage that personalization generates for virtual stores is the Customer Loyalty. After all, who doesn't like to be treated in a special and exclusive way? Everyone, right? And e-commerce is no different.
Promoters for the brand
By gaining customer loyalty, it becomes easier to obtain promoters for the brand. They like your service so much and trust what you offer so much, that they will recommend your shop to friends and family, promoting their brand spontaneously and free of charge.
How to customize the shopping experience in e-commerce? 4 tips
It is possible to customize the customer experience em the entire purchase journey in e-commerce. We separate 4 tips to help you in this mission. Check out!
1) Segment the lead base
2) Customize navigation within the site
3) Enable product customization
4) Provide a smart checkout
1) Segment the lead base
One of the main steps to apply personalization in an e-commerce is the marketing segmentation, that is, to segment the base of leads and customers. This consists of separate them into groups by common characteristics and affinities. For this, it is necessary to make use of the collection of personal, professional and demographic data through forms as well as browsing analysis.
With this, it is much easier to use personalized communication with each one, creating and sending personalized content by email, blog, chat, WhatsApp, calling them by name and maybe even sending a personalized note on the product delivery.
2) Customize navigation within the site
Another very popular and assertive way is to customize the navigation of each user within your virtual store. This can be done through a recommendation system, which analyzes navigation and consumer behavior within the site to recommend the most relevant products.
Those recommendations can be done in virtual showcases, do not search field — with the help of a smart search and banners —, on the product pages, on the carrinho de comprasOn retention pop-ups and hotsites.
3) Enable product customization
If possible, allow your customers to customize some of your e-commerce products by inserting their name, a phrase, an image, etc. In many cases, it is something that generates a low cost for you, but that can make all the difference to your client and, consequently, to the success of your business.
4) Provide a smart checkout
Facilitate the purchase process and provide an intelligent checkout, that is, a checkout capable of retrieving information that the consumer has already passed, such as name, e-mail, telephone and even credit card. In addition to improving the shopping experience, It will greatly reduce the bounce rate. of your e-commerce.
Conclusion
Personalization is a very assertive and versatile strategy. It can be used in different segments, areas, steps and in different ways. The important thing is always to know your market, your target audience, your people and, of course, your business and, from there, identify which actions are relevant and will bring more results.
In e-commerce, offering the personalization of the shopping experience within the virtual store is something increasingly necessary and demanded by consumers, as it optimizes and helps the purchase journey.
Do you want to implement this online sales strategy in your e-commerce? With the smart search, recommendation windows, retention pop-ups e hotsites from SmartHint, you can customize the experience in a practical, fast and cost-effective way! Get to know!
Written by: Tania d'Arc.