Sales conversion is the name given to the advances of a user through the stages of the sales funnel, towards the purchase, from the positive response to the organization's incentives. It usually occurs when an e-commerce visitor becomes a lead and a lead becomes a customer.
---
Selling is the main objective of the actions of an e-commerce, is not true? And considering that the scenario is very favorable for this, as shown by the Neotrust research, which points out that, only in the first quarter of 2022, Brazilian e-commerce grew 12,6% and earned R$39,6 billion, this goal can be achieved.
However, for this to happen, it is essential that you, the shopkeeper, make use of some strategies and that you have extensive knowledge on the subject. The first step on this journey is to understand what it is and how it works. sales conversion on-line.
First of all, it is essential that you do not confuse "conversion" with "sales", as these concepts are not synonymous.
This is a mistaken and limiting conclusion, after all, the word conversion can also be used for other situations, such as converting a visitor into a lead, which happens when a user:
register in a form to receive newsletter,

access a landing page and download rich material;

shares the data in a pop-up that offers a discount coupon.
Therefore, we can look at the meaning of the term conversion as the ability of a company to lead a user to make decisions that are aligned with the commercial planning. For this, it is necessary to use the persuasion in communicating with these potential buyers.
In this context, it is essential to emphasize that the complexity of the customer's journey to making a purchase requires that an e-commerce company monitors and encourages different types of conversion.
And that's what we'll talk about next!
What is a sales conversion?
A sales conversion is the name given to a user's progress through the steps of the sales funnel towards the purchase, from the positive response to the organization's incentives. It usually occurs when an e-commerce visitor becomes a lead and a lead becomes a customer.
However, as we said at the beginning of the article, in a strategy commercial and marketing, conversion should not be associated only with sale.
What is Conversion Rate?
A conversion rate is a strategic indicator used to measure the relationship between the number of users impacted by a message, or other type of element, and how many responded positively to it, carrying out the proposed action in a given period.
When a user accesses an e-commerce and completes a registration to receive news via newsletter or to win a discount coupon, we can say that this visitor has been converted to lead.
If a lead, impacted by promotional email marketing, clicks on CTA (call to action) of the material, access the product page and complete the purchase, it was converted into customer.
The role of conversion in digital marketing and sales
Carrying out different types of conversions in digital marketing allows the company to keep track of leads throughout purchase decision process, respecting the stage of the journey the user is in.
It is essential that you worry about the steps that precede the purchase, after all, you cannot ignore the fact that not always a user who accesses your store will make the purchase immediately.
According to one Episerver study, 92% of users don't buy on first visit.
Therefore, it is essential to bet on actions that allow you to keep your company in the competition for this customer — even if he has accessed the e-commerce without placing an order.
Here, it is worth highlighting: with each conversion, the user is closer to the company and its products and, of course, a purchase.
How to calculate the sales conversion rate?
The sales conversion rate within an e-commerce measure the amount of sales performed compared to the number of visits received.
For example, consider that during a week, 2.500 people visited your store and 500 made a purchase. The calculation will be:
Sale conversion rate = number of people who bought / number of visitors x 100
Sales Conversion Rate = 500 / 2500 x 100
Sales Conversion Rate = 0,2 x100
Sales Conversion Rate = 20%
This means that your store's sales conversion rate this week was 20%.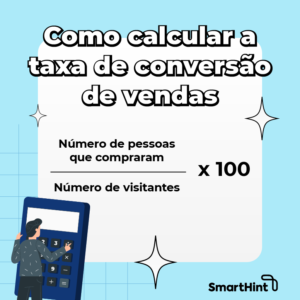 As mentioned above, it is also indicated to measure other results, such as lead conversions.
You can calculate the rate daily, weekly, monthly, semi-annual, yearly or any period you want. You can also choose to do this calculation per campaign. Observing, for example, the conversion rate of Black Friday or other important dates.
Speaking of which, check out the successful case that shows how SmartHint helped Amend Cosméticos to increase conversions during this period: With SmartHint's smart search, Amend sold 64% more on Black Friday.
What is the ideal conversion rate?
According to one Experian Hitwise survey, average e-commerce conversion rate in Brazil is 1,65%. This is a very low number, which represents little efficiency in converting customers.
To improve this index, it is vital to invest in stocks aimed at this. It is not enough just to invest in marketing actions to attract visitors to your store.
It is also necessary to work well EXPERIENCE de navigation, search and purchase that the user will have within the e-commerce.
If these are not real concerns in your action plan, your store is likely to experience a high rate of customer abandonment.
At least, this is the result pointed out by research such as that of Salesforce, which shows that 74% of consumers, probably will switch brands if they find the purchase process too difficult.
In addition, as we saw above, providing channels for converting visitors into leads also helps you work more effectively with the other stages of the sales funnel, a strategy that, in turn, is quite effective for your prospects to advance in the sales journey. purchase.
10 tips on how to increase sales conversion in the online store
The purpose of actions to increase sales conversion rate it is to eliminate barriers that can make the purchase process difficult and alienate the customer, causing him to give up on moving forward.
Thinking of helping you to overcome these difficulties, we have organized a list with 10 tips to increase your online store sales conversion. Check it out!
Ease user navigation

Strategically organize your virtual storefronts

Implement an intelligent search system

Create excellent product descriptions

Ease the checkout process

Improve your shipping options

Offer reasons for the customer to stay

Work with mental triggers

Have a responsive website

Plan efficient email marketing campaigns
Next, understand what to do at each step.
1) Make user navigation easier
According to Google/SOASTA Researchthe loading time ideal for one page is up to 3 seconds. However, even reaching this value, there is still a chance of 32% of users giving up accessing your page.
To avoid high rates of abandonment and have greater chances of conversion, it is necessary invest in loading speed e-commerce pages, improving usability and browsing quality.
2) Organize your virtual storefronts strategically
In a physical store, the salesperson contributes to customer conversion by, for example, recommend products that are aligned with the needs presented by him.
In e-commerce, the recommendation is made through tech, especially resources such as virtual showcases e smart shop windows.
They organize and present the goods in an intelligent way, making it easier for the buyer to find options that align with what they are looking for.
Learn more about these features in our video!
3) Implement a smart search system
A smart search is a research system based on artificial intelligence. It makes it easier for the buyer to find the goods he wants more quickly.
Among the features that smart search can offer are:
By facilitating customer research, you improve shopping experience and encourages conversion.
Want to know more about how it works in practice and what its benefits are? Then go to the article: What is smart search and why have it in my e-commerce?
4) Create excellent product descriptions
In e-commerce, the customer does not have the possibility to pick up the product, observe its size, try it and assess the quality.
All the information he has about the goods are those made available by you, in the Product Description. So make sure they are as complete as possible.
This includes photos, videos and miscellaneous descriptions such as:
Name;

model;

brand;

dimensions;

weight;

Datasheet;

Colors;

functionalities;

resources;

benefits etc.
Without complete information about the item, the buyer may be insecure and not complete the order. So, take care and dedicate yourself to the construction of each page.
5) Ease the checkout process
According to Accenture, 87% of online shoppersand will abandon their carts if the checkout is complex.
You don't want the customer to give up on completing the deal after he's already set up a shopping cart, do you? It would be like dying on the beach after swimming so much.
The final stages of the sales funnel are very delicate and require your utmost attention in creating enablers and eliminating barriers.
If you don't know where to start optimizing this vital step for sales conversion, we encourage you to read our guide: 10 tips to improve your online store's checkout process.
6) Improve your shipping options
Another important concern to avoid customer evasion is the optimization of the freight offer.
The higher than expected shipping price is one of the reasons that lead buyers to give up on a purchase, so be aware of the price, partner with carriers and consider using free shipping as a sales pitch.
Also remember that the deadline should get your attention. Long deadlines can discourage consumers or make them look for a competitor that meets their needs more quickly.
7) Offer reasons for the customer to stay
As we saw at the beginning, there is a high chance that users will access your site and leave without making a purchase.
To reduce these fees in your store, your role is to provide potential customers with reasons to stay.
Among the resources that can facilitate the achievement of this objective are the retention pop-ups which, as its name suggests, focuses on customer retention in the store.
Os exit popups are an example of a retention popup that appears to the user when they demonstrate the intention to close the e-commerce tab or window.
Through technology, the system recognizes the visitor's behavior and acts automatically, presenting a pop-up which offers some incentive for their permanence.
It can be an exclusive discount, valid for the next few minutes, the presentation of offers or the call to register your email and receive a discount coupon for the next purchase. The latter is even an important conversion strategy in digital marketing.
8) Work with mental triggers
mental triggers are stimuli to action. Therefore, they are essential partners of conversion strategies. Meet some types.
Scarcity

: Ideal for calls that highlight a product that is rare or that may run out.

Urgency

: Use time to your advantage by limiting the period an offer will be available.

social proof

: Takes advantage of the opinion of other customers about your products and your store, to awaken security and encourage purchase.
Read also: Mental Triggers for Online Sales: 5 Examples That Get Results!
9) Have a responsive website
According to Ebit study, shopping via mobile devices, or m-commerce, already represent almost 60% of all online consumption.
Another survey, led by National Telecommunications Agency, points out that 87% of Brazilians use the smartphone to shop online.
With this data in hand, it is clear why it is necessary for you to create a responsive website that offers an excellent shopping experience.
So stay tuned and don't waste any more time!
10) Plan effective email marketing campaigns
O e-mail marketing plays a central role in sales conversion. After converting a visitor into a lead, or even maintaining relationships with former customers, this platform allows direct and efficient communication with those on the other side.
In addition, research such as Litmus' State of Email Survey Research Series, indicate that the for every $1 invested in email marketing actions, $49 comes back and return on investment (ROI).
so if you Whether you're increasing sales conversion, turning leads into buyers, or driving new purchases from old customers, it's time to pump up your email actions.
With this list of strategies to increase sales conversion, you have a powerful checklist at hand. So it's time to start putting all this into practice, without wasting more time and money.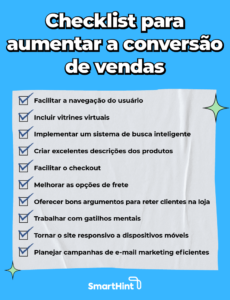 By increasing conversion into sales, you reduce the customer acquisition cost and increases ROI. All these benefits are essential for your growth strategies.
Finally, how about a success story that will inspire you and show that it is possible to have fast conversion results? Access the free e-book: How Diesel increased its online store conversion rate by 120% in just one month.