The virtual showcase is a section within the website intended for the exposure and highlighting of some products from a virtual store. In it, the items are presented in a photo gallery and may contain important information about the exhibited items, such as a brief description, price, discount percentage and delivery and payment conditions.

Virtual showcase: do you really know what this is? Many refer to her to talk about different things. In general, it has to do with the product display in the online environment.
But, as this exposure can happen in different ways, some call the home or home page of an e-commerce site a virtual showcase, others call it the page of a product. And there are still those who use the term to refer to items presented on a social network or within a section of the site.
This confusion is explained, because the word "showcase" refers to something that is being exposed. But we, here at SmartHint, would call this exposure of various products in an online environment a virtual catalog or simply shop. And the showcase would be just a section within that catalog, with a list of selected products and gathered under some criteria.
If it's still not so easy to understand, don't worry, we'll explain EVERYTHING about this concept, how it works, its importance, advantages and how to assemble it. Check out!
What is a virtual showcase
The virtual showcase is a section within the site intended for exhibition and highlighting of some products from the virtual store.
As we said in the introduction, some people use the term to refer to other things, but here we'll approach the concept of a virtual storefront from that perspective.
In this case, the virtual showcase is nothing more than a listing of items sold in an e-commerce. And, usually, there are several of these showcases distributed throughout the site: on the homepage, product page, shopping cart. And also in different places: top, middle or bottom of the page.
See some examples of virtual showcase in the following video:
Did you notice the "Best sellers for men" and "Novidades" sections? So, these are the virtual storefronts!
Notice that in the "News" window, products different from each other, but which have something in common: they are new to the catalogue. Below the photo of each one, there is the name of the item, the price and even information about the possibility of installment.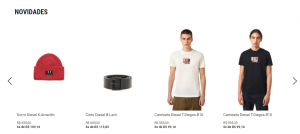 By clicking on the image of one of the articles, the user is directed to the product page, where they will find more details about that item and complete the purchase, if desired. Therefore, using the virtual windows inside the virtual store is a great way to stimulate the sales conversion.
See how Diesel increased conversion rate by 120%, in just one month, using SmartHint's showcases!
How a virtual storefront works and what it is for
In short, the virtual showcase is an element that serves to:
highlight products within the online store;

draw the attention of consumers;

organize the items within the site;

facilitate navigation;

recommend products;

customize the experience;

stimulate purchase.
As we saw in the previous topic, virtual storefronts help to highlight certain products within the online store, catching the attention of consumers.
This is more or less what also happens with store windows, but the big difference is that in the physical, the window appears for those who have not yet entered the store, is an attempt to bring consumers into the establishment.
Yes, on onlineThe virtual windows appear for those who have already accessed the store's website, as if the person entered the physical store and there were other windows inside, highlighting certain categories, products in promotions, etc.
Therefore, in addition to highlighting items from the store, these windows also serve to better organize items and facilitate navigation within the e-commerce, without the person having to click on category by category and view item by item. In this sense, the windows in the online store would play the role of a virtual seller, which shows the best-selling products, the most viewed, offers, among other things.
That's why some windows are also known as smart shop windows ou recommendation windows. Because more than organizing and displaying items, they do product recommendations for online consumers.
These smart windows are part of a recommendation system, what analyzes all store items and user behavior and, based on that, organizes the windows and positions them in strategic locations within the site.
From the behavioral analysis, it is possible to assemble personalized showcases for each customer, according to the interests they have shown during navigation. So it is common for virtual stores to have two types of showcases inside the store: personalized and non-personalized.
As custom windows usually present similar or complementary products what the consumer has seen or bought.
Already the not personalized are more generic and generally present the same items for all consumers, which can be the best-selling products or products on offer, for example.
Stand-alone showcases
I know you've heard many terms so far, but we have one more important thing to introduce you to: the freestanding showcases.
They are a more efficient version of conventional recommendation windows, as they work automatically and have a much greater customization capability. This is possible through the use of artificial intelligence (AI).
As we have already said, smart storefronts work through a recommendation system. This mechanism can be done in several ways and, in order to work, many need to be manually configured, as well as the analyzes, which need to be done by specialized professionals. But the recommendation systems with artificial intelligence work automatically, giving rise to autonomous windows.
This means that the System AI does real-time analysis and, with that, it is able to identify which are the most relevant products, showcases and positions for each user, improving the experience e increasing chances of purchase.
In this way, even the most generic storefronts — such as the most viewed, most sold, launches — can be personalized, making the user experience be unique to each.
Learn EVERYTHING about e-commerce recommender systems in this definitive guide!
Advantages of the virtual storefront for e-commerce
Among the main advantages of the virtual storefront for e-commerce are:
Best shopping experience

Reduction of the bounce rate

Customer loyalty

stock turnover

Increase in conversion rate

Highest average ticket
Best shopping experience
As already mentioned, virtual storefronts help organize products in e-commerce, facilitating navigation and highlighting some products that consumers might not have seen if they weren't there.
These factors contribute to a better shopping experience within the virtual store. And if the windows are personalized, this is even more evident, as the user will be directed to the items they are more likely to like.
Read also: Shopping experience: 11 tips to boost your sales.
Reduction of the bounce rate
A rejection rate indicates that a user has accessed the site, viewed only one page, and left without purchasing anything. But when the experience becomes more pleasant and the consumer finds the products more easily, the bounce rate decreases.
And that's what happens when using virtual storefronts: the customer engages with the recommended products, spends more time browsing and tends to buy more easily.
Customer loyalty
When using the virtual showcase in your e-commerce, the Customer Loyalty happens naturally. After all, when the customer has a good experience, he will probably want to go shopping there again. future — as well as recommending the store to friends and family.
stock turnover
Virtual storefronts can also be used as a strategy for increase your inventory turns and highlight items that have been idle for a long time, but that, when presented to certain users, may start to have an output.
Increase in conversion rate
O increase in conversion rate is, without a doubt, one of the main advantages when using virtual storefronts, because, as we said, the shopping experience is much better for customers, as they find products more easily and they still have the possibility of receiving recommendations that they would not find alone. all this increases the chances of purchase and, consequently, the conversion rate.
Highest average ticket
Virtual storefronts are one of the main tools de cross selling and up selling, strategies that serve to encourage cross-buying and the purchase of a product with a higher cost, respectively.
No cross selling, you can use storefronts to recommend products that complement what the customer is viewing, such as "This matches". If a customer is seeing a pair of jeans, the window can feature T-shirts, hats and belts for them to buy together.
Now up selling, the virtual showcase can recommend similar products, but with more advanced features and, therefore, with greater value. For example, if he's viewing a wired headset, the storefront may feature other, more expensive wireless options.
This technique may seem complicated, after all, it would be necessary to create several possibilities for each product viewed. But the SmartHint's search and recommendation system can help you with that, as they have autonomous windows that work by themselves and automatically for each situation. Schedule a free demo!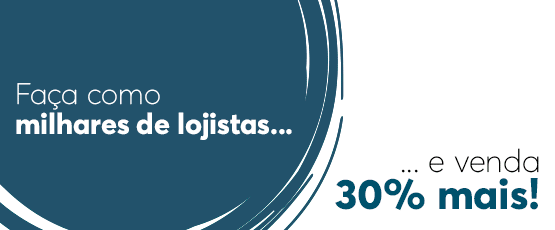 How to mount windows in the virtual store?
There are many ways to set up shop windows in your online store. The main ones are:
use an e-commerce platform that makes this feature available;

create a recommendation system of its own;

hire a specialized recommender system.
e-commerce platform
Some e-commerce platforms already provide the free virtual showcases for its tenants within the contracted plan. Generally, they offer the most basic showcases, which help to better organize the presentation of products. It is a good option for those starting out, but as this is not the focus of the platforms, it is recommended to move on to more robust alternatives as e-commerce grows.
Own recommendation system
Some shopkeepers decide to develop their own recommendation system, aiming to increasingly improve the strategy and improve the browsing experience in the virtual store.
But this option takes a lot more time, is a lot of work and generates a lot of costs. In addition, it is not enough to just create the system, it is necessary to dedicate time and manpower to perform the necessary analyzes and configurations frequently.
Specialized recommendation system
The best option for those who want to expand their business safely and assertively is to hire a specialized recommendation system. Usually you pay a monthly fee and the system starts running on your site.
For this option, the systems with artificial intelligence are the most recommended, as they work in a Automatic and much more Custom for users. And without generating work for your internal team, as the AI ​​does the analysis and configurations automatically and in real time.
SmartHint's recommendation system relies on this technology and also provides all performance indicators, connected to Google Analytics, in a very clear and intuitive way in the administrative panel. Create an account now and see how it works!
Main elements of a virtual showcase
But regardless of the way you choose to set up your windows, some elements are essential when setting them up in the virtual store. See what they are:
presentation criteria (best sellers, similar, offers, etc.);

showcase title;

product images;

links in the images, leading to the respective product pages;

item title and/or brief description;

product price.
8 precautions when setting up virtual windows
1) Bet on a harmonic design
2) Ensure a responsive layout
3) Use good images
4) Optimize loading speed
5) Choose suitable colors
6) Enter products in stock
7) Analyze the results
8) Customize the windows
1) Bet on a harmonic design
It is very important that the design of the windows is compatible and harmonious with the design of the rest of the site, generating a pleasant experience for customers.
2) Ensure a responsive layout
Another crucial factor is to ensure that the storefront layout is responsive, that is, that the storefronts adapt to any screen size, be it desktop or mobile devices.
3) Use good images
As imagery must take the best angles of the products presented and have high resolution, valuing the items and arousing the interest of users.
4) Optimize loading speed
Despite using images with quality and resolution, it is essential that they are not too heavy, as this can slow down the loading of photos and pages. And the internet speed is a basic requirement, which influences the user experience and, consequently, the SEO of your website.
5) Choose suitable colors
Bet on the most appropriate colors, which have to do with the layout of your website, which help to highlight the products and do not interfere with the vision of important elements, such as the product name, description, price, etc.
6) Enter products in stock
It is extremely important that the windows only present the products in stock, otherwise, this can cause frustration in the customer and make him leave the site and not want to come back.
7) Analyze the results
It's no use just activating the windows in the virtual store and that's it. It is necessary to monitor and analyze the results, to see what is making sense or not, what is generating sales and what should be adjusted.
8) Customize the windows
The more personalized the windows are, the more successful you will be in this strategy. After all, who doesn't like to receive assertive recommendations tailored to their needs? It's no different with your customers: they will love it!
Examples of virtual showcases
Below are some examples of the most used virtual storefronts.
Best sellers
Releases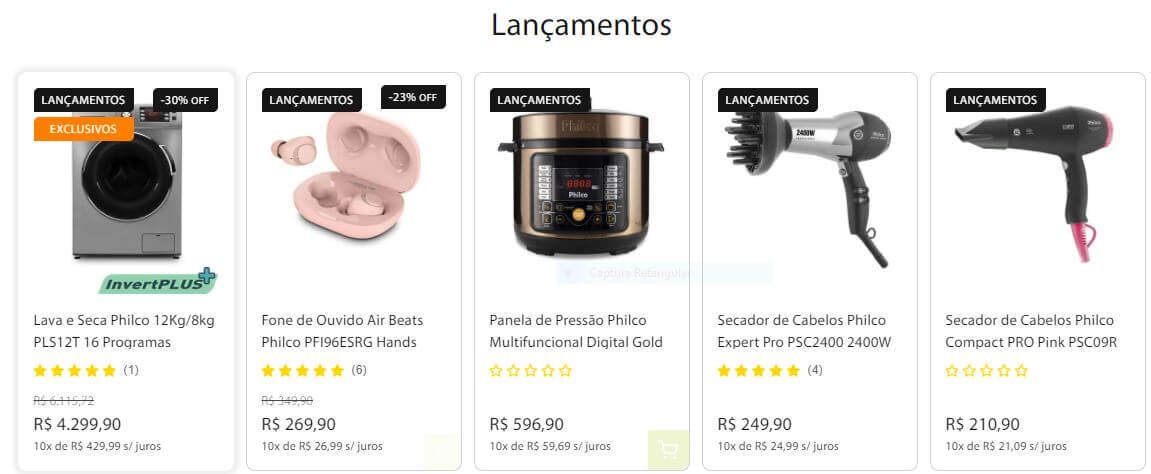 Personalized recommendations
Frequently bought together
Similar Products

To learn about other recommendation models and to learn more details about each one, read also: 8 product recommendation templates for your online store.
Which showcases to use and where to place them?
To know which virtual showcase to use and where to insert each one, it is important to know your public. This can be done through research and analysis of results. It is also important analyze the performance of each showcase, to find out which ones work best with your persona and in which position.
In recommendation systems in general, A / B tests to analyze and configure storefronts where they are most likely to convert. But, as we mentioned earlier, in those that use artificial intelligence, the autonomous windows do this automatically, since the intelligence performs analysis in real time.
Anyway, here are some indications that usually work a lot.
At the store home
In the home of the virtual store, the more generic windows, such as "Launches", "Best Sellers" and "Most Viewed" work well. As well as custom windows, as long as the customer has browsed the store enough and shown their interests.
On the product and shopping cart pages
On the product page and on the carrinho de compras, it is common to use shop windows that suggest a joint purchase or complementary products.
The showcase of similar products works well on product pages, but not on cart pages, as it can leave the consumer confused and undecided between products, instead of completing the purchase.
Showcases with the face of your brand
Another possible thing to do is to have creativity in window titles, using a language that is closer to your customers and more like your brand.
How to have virtual storefronts with SmartHint
If you want to activate assertive and personalized virtual storefronts in your e-commerce, SmartHint is the best option. We count on more than 16 custom showcases for you to embed on your website.
Are freestanding showcases that adapt to the store layout responsively, personalize the experience individually for each user, and work 100% automatic, that is, without generating any work for you or your team.
Still, it is possible to change the titles in a simple way, leaving the windows with the face of your brand. And you can also create custom showcases, based on the results of search that you want to highlight.
The system is connected to Google Analytics and you can intuitively check the performance indicators in SmartHint admin panel. It is integrated with more than 35 platforms and implementation is super fast. In addition, SmartHint does not work with a loyalty contract, because you know that Satisfied customers don't have to be forced to stay, they continue due to technology and service quality.
It is no wonder that it is the most used search and recommendation system in Latin America and the preference of 84% of retailers who use this type of solution in Brazil. Meet the technology!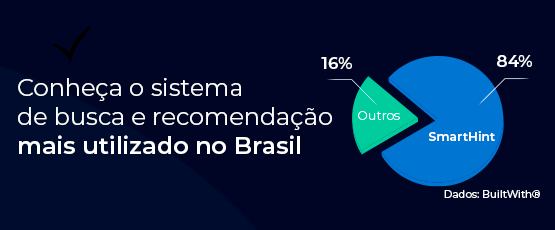 Conclusion
In this text, you saw that the virtual showcase is a section within the online store that presents some products to facilitate customer navigation and highlight items, according to the business strategies.
You can use showcases through your own platform, create your own system or hire a specialized system such as SmartHint. In addition, he saw the main elements of a showcase, some important care and places where you can insert each type.
The fact is that virtual storefronts are an essential element in any e-commerce and bring many benefits to customers and, consequently, to the business. Use this guide whenever you need to so that your strategy is increasingly assertive and efficient.
And if you want good inspirations to start with, know the success stories of those who use SmartHint's search and recommendation system!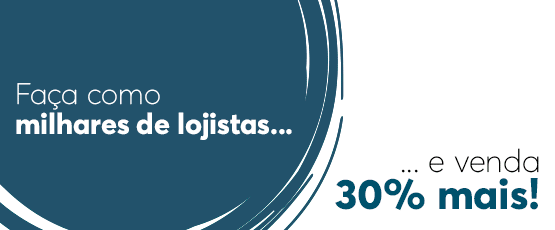 Written by: Tania d'Arc