There is no doubt that e-commerce is a booming business. According to a Statista report, it was responsible for almost $2.3 trillion in sales in 2017 and expects to hit $4.5 trillion in 2021.


Let's agree there is nothing more captivating than being your own boss. Today you may make this goal more available since the Internet makes e-commerce an exciting alley for success.
Although, it may seem a little complicated for a beginner. You may wonder what is your start point and how to begin a successful e-commerce business that will generate revenue.
If you are thinking about starting an e-commerce business and selling products online, then you had better look through this checklist before moving on.
1. Start Planning Your Business
If someone tells you that you cannot start a business, remember, either they are afraid to try, or they are afraid you will succeed. Therefore, before starting your business plan, you should understand how serious you are about it. It may sound boring, but you have to create a lot of documents for your business to give it a try. First of all, you had better create a one-page business plan making it easier for your stakeholders understand what you are about.
Secondly, you should set up your goals, vision, and mission. Afterwards, it is recommended to explore the market and comprehend the core of the industry you are going to market in.
And finally, decide on your target audience. Whom are you going to sell your products? How are you going to target them? What are your steps in building trust and credibility in the target audience? As soon as you will have all the above-mentioned points written on a white paper, then it's time to pass to the second step.
2. Research Your E-commerce Niche & Persona
Identifying your niche
You may quite often see e-commerce websites flooded with a lot of products, categories without a real focus. Let me be honest with you, it's not professional. It doesn't matter whether your budget is massive or not, any way you cannot become an Amazon or eBay if you don't niche down for running a fruitful e-commerce store.
Choosing a niche is one of the most significant parts when starting an e-commerce store. Above all, you should identify successful companies that are already working on this field. It is done since the sphere should be competitive too since you will never succeed if there is no market in the sphere.
Identify your buyer persona
After identifying your niche and having a business plan, you may be tempted to start immediately, but you should wait. Before thinking of products, you should think about personas. You won't be able to sell your products if you don't know your targeted customers.
That's why you should answer the following questions to understand your buyer personas:
Who are they?
What is their job?
How do they spend their day?
What is their primary goal?
Where do they head for information?
What do they prioritize for a vendor?
What are their objections?
It is recommended to use three buyer personas at the beginning. Later, you may generate new ones if required.
As soon as you define your buyer personas, it will be easier to plan your monthly content calendar and lead supporting efforts. Always keep in mind your buyer persona while creating content for social media and blog posts.
3. Decide Your Business Name
The least and not the last thing that you need is finding out that the name of your product or your domain is registered to any other business. Consequently, you should decide on your business and domain name in tandem and make it be different.
Moreover, you will only benefit if your domain and company or product name match.
4. Host Your Website
The core point in online site building is web hosting. Generally, web hosting services are not cheap, so you should use all their resources to run your website effectively. Before choosing cheap web hosting, reconsider your decision, as it may be reliable, but not effective. That's why you should read reviews, do some research and ask friends to understand what will be good for your business.
5. Choose an E-commerce Platform
After following all the above-mentioned steps, be sure that your e-commerce platform is able to scale with famous e-commerce marketplaces for increasing your exposure.
Choosing an e-commerce platform is important for getting traffic. Try to use thank you emails, upsells and coupons to attract more visitors.
Moreover, you can use Shopify, WIX, Woocemmerce platforms for your business. They suggest some basic features of online selling that perfectly fit e-commerce startups. For instance, Shopify is one of the leaders in this industry with its splendid store management features and easy-to-get product pages.
There are some Latin American platforms that work well for any e-commerce store, such as Mercado Livre, Extra, Linio, Submarino, and others. We can say that Mercado Livre is the biggest highlight marketplace in Latin America. Sometimes they say Mercado is the eBay of Latin America since it acts similar to its strategies.
6. Secure Your Domain Name and Website
The security of any e-commerce store is of utmost importance. In order to avoid any unpleasant experiences regarding it, you had better follow these points to keep your store secure.
Use hard-to-guess passwords to keep your web account secure
Use anti-virus and spyware measures to keep your login details secure
Keep your domain up-to-date with the registrar
Keep in mind when your domain should be renewed
Following these points, you will minimize the risk of being attacked by hackers.
7. Add an SSL certificate to your website
Security is the most important step in starting an online store. Thus, you should provide your site with the best security, for instance, by buying an SSL certificate. For adding an SSL certificate, your website must have a dedicated IP address. It is required to make sure that the traffic goes directly to your ID address, not to elsewhere.
After that, you will need an SSL certificate, which is like an ID Card for your store. It's a long password for your site, and every time people visit your store via HTTPS the password is checked to know whether it matches or not. Then, your website is automatically verified and everything going to and from it is encrypted.
8. Determine Your Products and Pricing
Another important point of starting an e-commerce store is selling awesome products. E-commerce is just a channel for sharing your item with the world. Similarly, your product should be worthy of its price and make the customers come back. Thus, whatever you sell, make sure they:
Fit well
Are not dreadful
Remember the goal you have set
Work properly
9. Figure out Shipping Options
After deciding on products and prices, it's time to plan out the shipping rate. Usually, customers are more inclined to free shipping, so before setting up shipping prices, check the version of free shipping, beforehand.
10. Make it Legal
When setting up an online store, the last thing we think about is legal considerations. There are a few steps you need to complete regarding making your business legal. So, be cautious and choose the legal structure of your business. A number of companies form LLC, but you had better do some research to understand what is the most convenient for you. Please, remember, that requirements are state-specific and they vary state by state. In short, make sure you obtain all the necessary information on making your business legal.
11. Add a Recommendation System to Your E-commerce Website
Nowadays, recommendation systems are widely used by e-commerce stores, as they make the shopping process easier and productive. The customers will receive recommendations based on their interests and needs, which will make their buying experience faster and effective. Thus, a product recommendation system is what you need for a successful business startup.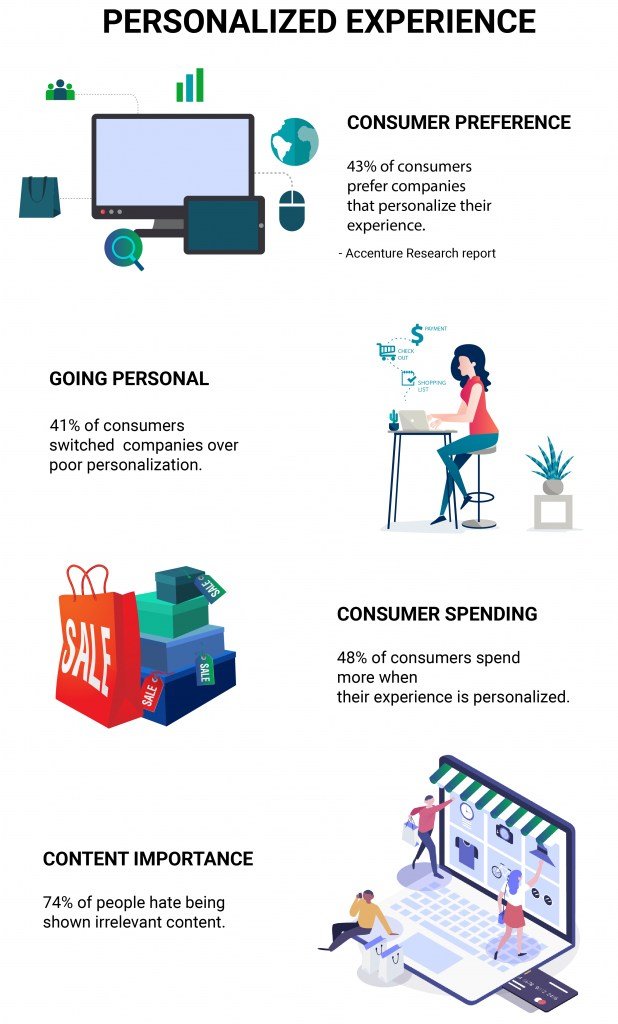 12. Start Marketing Early
Even if you are not ready for running, it will be good to set up social media profiles and create the necessary content for your blog. You may choose the option of "coming soon". People who will visit your website may sign up to receive updates.
13. Attract customers to your store
The keyword-stuffing times are already gone, but SEO is still alive. When building each page of your site, you should keep keywords and search terms in your mind. Moreover, don't forget driving traffic to your website.
E-commerce stores with big budget invest in online marketing. If you don't have the necessary funds, you may use e-commerce marketing newsletters or listen to marketing podcasts to understand the core of the industry.
Another effective way of attracting customers is social ads and Google ads. In particular, for reaching the targetted audience in your service area, local targeting is really useful. For instance, Google Adwords and Facebook enable advertisers to target audiences according to their country, state or ZIP code.
Moreover, Facebook Advertisements allow you to choose different call-to-action buttons, like:
Call Now
Shop Now
Learn More
Sign up
14. Start selling online!
The process of learning selling online can be exhausting. But after understanding how to sell online effectively, it will seem the most lucrative job for you. Similarly, you should figure out what products you sell.
You should develop a strategy for selling online, such as:
Selling through your online store
Finding products to sell online
Attracting customers via marketing
In conclusion, you may start your e-commerce store immediately, if you are able to follow the above-mentioned points. Thus, having a concrete business plan in your mind is the fundamental point for an e-commerce startup. Then there come security, marketing, recommendation system usage, and other already discussed points vital for any e-commerce business.