Facebook, Google and Apple knows about the users. Truth is, Amazon may know more. And the massive retailer, using the recommendation system, proves it everyday.
The Amazon's recommender system is based on a number of simple elements: What the user bought, which items are saved at his "wish list", items that they've rated and liked, and what others customer have viewed and purchased.
"Item-to-item collaborative filtering " called by Amazon, many used to increase the user experience for the return buyers.
Amazon's recommendation system example: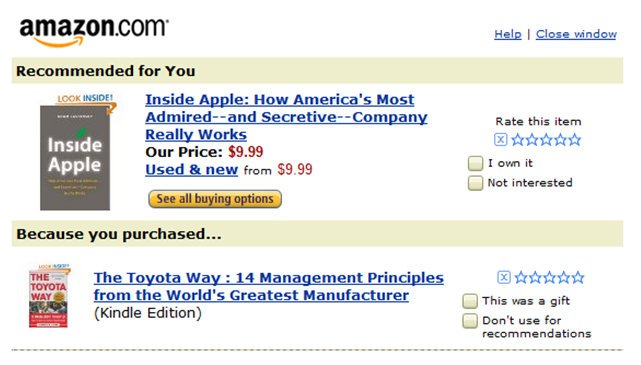 An enthusiast of tv, may receive many tv's suggestions, while a mom, received baby's suggestion at the same pages and process.
Analyzing the Amazon's success, the Recommendation System works! Just to know, when this recommendation system was launched in 2012, the revenue grew 29%.
In just three months, the revenues increased to $12.83 if compared with $9.9 billions, the same period of the year before.
It's happen after Amazon integrated the recommendation system in all sales process, increasing significantly the user experience.
Still, the observers analysts from Amazon, continually declares that has more thing to develop on recommendation system, getting more benefits to Amazon a long term.
Items sold in boxes before, today, may be sold individually. A deck of cards, for example, after the recommendation system was turned on, the customer may see this item in "cart" during his buy process, just a step before the buy end.
This is possible today. Like SmartHint, your webstore will may have the same condition and offer the best user experience like Amazon does.
Talk to us and know more how your web store can attend the customer as unique and pleasurable.
Credit: Fortune