Online sales are transactions for the purchase and sale of products and/or services over the internet. CHere are 12 tips to increase your online store sales and boost your digital business. These are strategies related to attracting traffic, shopping experience and customer relationships.
---
As online sales grow more and more every day. According to the survey Market Review, 33% of respondents only shop online and 49% intend to do even more online shopping in 2022.
But, like everything that involves technology, this market is dynamic and new trends appear almost daily. In addition, competition on the internet is very strong and consumers have more and more options and information, literally, in the palm of their hand. Therefore, it is necessary to invest in the right strategies.
Thinking about helping to leverage your business, we prepared this text with important information about this sector and 12 online sales strategies for your e-commerce.
What are Online Sales?
Online sales are nothing more than purchase and sale transactions of products and/or services over the internet, even if the consumer and the retailer are miles apart.
On the consumer side, just having a device with access to Internet to make purchases from anywhere in the world. And from the retailer's point of view, it is necessary to have one or more sales channels connected to the internet and that make the products available to consumers.
How to start online sales?
One of the first steps to start selling online é choose the sales channel where you will have the products to be purchased. You can choose one or more channels, the important thing is that everyone is prepared to receive customers in the best way and offer an excellent shopping experience for him. Check out the main online sales channels below.
Social Media
Social networks are increasingly popular, so selling through them is a great strategy, also called social selling.
Despite not being an exclusive sales channel, consumers constantly access it to interact with their contacts, entertain themselves and gain knowledge. You can take this opportunity to network, show your products and even sell them.
Today, the most well-known social networks, such as Instagram, Facebook, WhatsApp and YouTube, are super prepared for this type of transaction and allow products, images and payment options be registered easily.
In addition to the possibility of selling through your brand's official profile, it is also possible to sell by live commerce, a type of sale that allows transactions during a live broadcast — the famous lives.
Marketplace
Another very practical way to sell online it is through the marketplaces, such as Magalu, Loja Americanas, Mercado Livre, among others. This channel works more or less like an online mall, where consumers can access multiple stores in the same location. And, as in physical malls, customers and shopkeepers rely on the security and name of the space, which is responsible for everything that happens inside.
Unlike what happens on social networks, here users already reach the intention to buy — or at least search for products on the internet — so the chances of sales are even higher, although there is a lot of competition.
One of the main advantages of selling on these channels is that you have the infrastructure and authority of a site already recognized by consumers.
Own virtual store
Although it is important to sell through social media and marketplaces, having your own virtual store is essential for anyone who wants professionalize online sales and succeed in the digital environment. After all, even if the customer decides to buy on other channels, having your own website generates more trust.
In addition, it is a channel in which you have complete freedom and autonomy, so you can customize according to your brand and use the sales strategies that you consider most relevant.
On your website you can also better analyze the profiles of your buyers and the purchase behavior, drawing important insights for this and other channels.
Advantages of selling online
Selling online has numerous advantages. That is why in recent years we have seen so many retails moving towards digital transformation and opening its virtual stores.
But, among the main advantages, there are 3 that stand out:
economy;

practicality;

scalability.
Economy
One of the main advantages of selling online is undoubtedly the economy. After all, opening a physical business requires a lot of money: to buy or rent a space; with maintenance; employees; cleaning; decoration; Among other things.
An online store also needs investments, but just the fact of not having to support an infrastructure as complex as that of a physical store already greatly reduces the costs of the business.
Practicality
Selling online is much more practical than physically, as you can manage the business from anywhere in the world, as long as you have an internet connection. Furthermore, there are many tools e T available on the market capable of boosting sales through a simple integration.
Scalability
Another positive point of selling online is the ability to escalate sales. That's because when you have your products on the internet you have the chance to reach a huge amount of consumers — much larger than any physical store — from different cities and even different countries than yours.
12 online sales tips
As we have already said, selling online is a great opportunity, but also a huge challenge. Therefore, it is necessary to be connected to the best strategies. Check out the 12 online sales tips below to boost your online store.
7) Count on a recommendation system
9) Have multiple service channels
1) Have a secure website
It may not seem like it, but one of the main online sales strategies for an e-commerce is having a secure website. Only then can customers be confident in providing their billing details to complete the purchase, such as credit card number and CPF.
To create a secure website, it is necessary to invest in an SSL certificate, which guarantees a layer of security for the programming of the page. Upon obtaining this certification, a padlock is displayed before the page URL, showing that the environment is trusted.
2) Create a visual identity
Another important strategy is to have a visual identity. This gives your brand more credibility. In addition, having a pleasant design in your store makes users spend more time inside it. This influences sales and is also a ranking factor in search engines.
3) Count on smart search
O search field is responsible for 60% of Sales OnlineTherefore, investing in smart search is an excellent strategy and a great opportunity to improve online sales.
This technology has:
Learn more about this technology: What is smart search and why have it in my e-commerce?
4) Appear on social networks
Having a presence on social networks, such as Instagram and Facebook, is very important for the visibility of the brand and for the relationship with the clients. So it is certainly one of the main online sales strategies for e-commerce.
It is not necessary to be at all: just understand the profile of your consumer and invest well in one or some of them.
This channel can be used to:
share content of interest to your audience;

publicize the products or a new line;

promote promotions;

communicate news or changes in attendance, delivery etc.
And don't forget to keep your online store address clearly visible on these channels.
5) Bet on paid media
Another important online sales strategy is to bet on paid media, such as Google Ads, Facebook Ads and Instagram Ads.
With them, it is possible to invest in techniques such as retargeting and increase your exposure on the internet to potential customers — whether on Google, within social networks, apps or even within third-party websites. They also drive traffic to your site and have a large, immediate reach.
If they are important for physical stores, imagine for stores that have the digital world as a habitat.
6) Invest in SEO techniques
Investing in SEO techniques (search engine optimization) is also a way of increase traffic of your store and a great online sales strategy, because it improves the positioning of your site in search engines like Google.
You receive more visits without paying for it and attracts more visitors engaged and more likely to buy.
Check out some SEO techniques that should be taken into account to optimize your online store:
friendly URLs;

Optimized meta title and meta description;

responsive website;

loading speed;

internal links;

use of relevant keywords;

optimized images.
7) Count on a recommendation system
Having a recommendation system active in your store is super important to enhance the consumer experience, because makes the buying journey easier and consequently the decision-making. That's why it's one of the top online sales strategies.
In it, the recommendation windows, such as "Most viewed", "Most purchased", "Recommended for you", "What others are buying", "New launches", select and suggest the trending or most relevant products for each customer, so it doesn't take hours until you decide what to buy.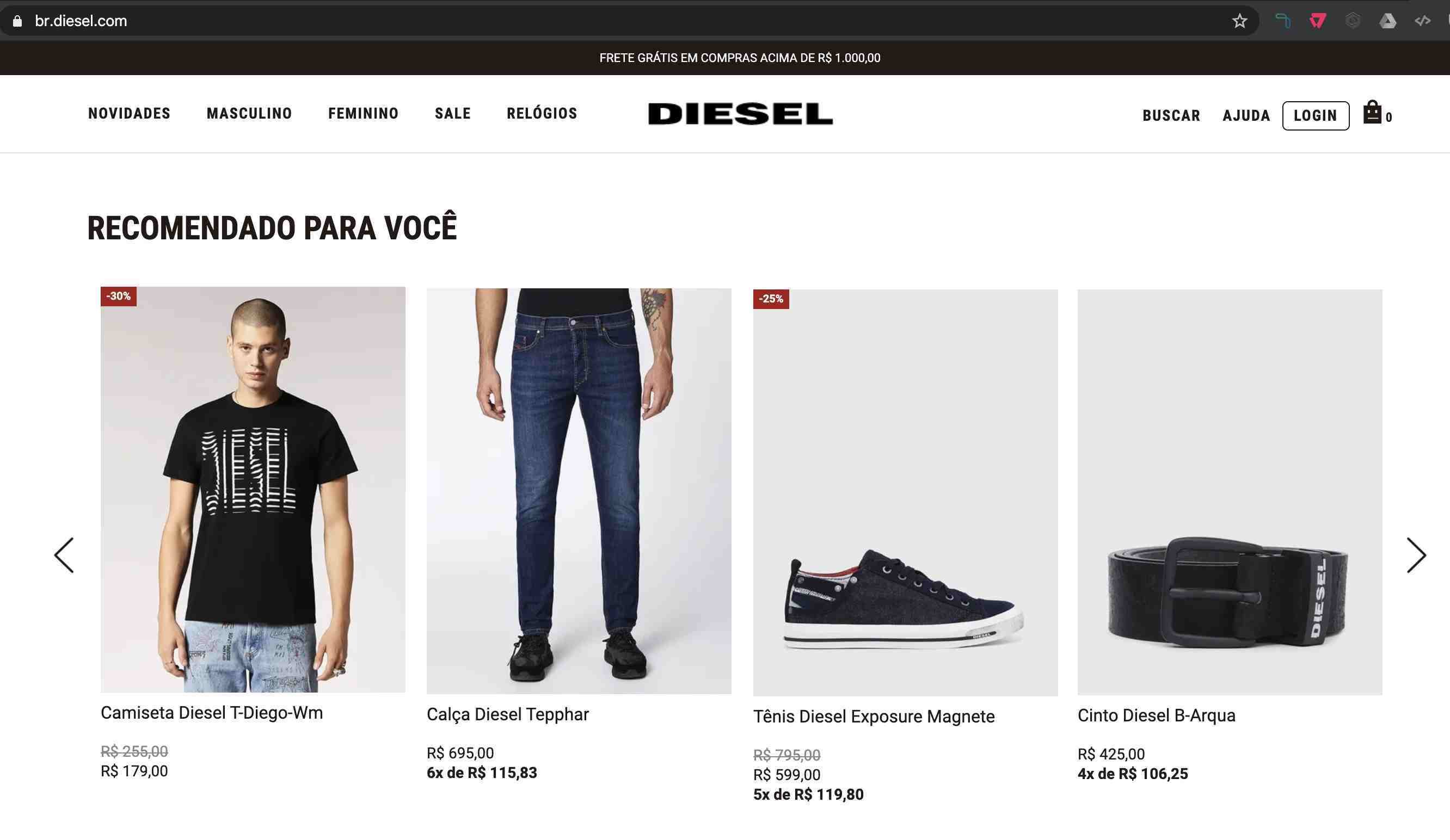 Some recommendations also help to increase the value of average ticket, as they suggest the joint purchase of complementary products.
8) Bet on retention pop-ups
Another good online sales strategy to get your customers' attention is to bet on retention pop-ups. The idea is to show relevant products and even offer a discount when he shows signs that he is going to leave the store or the carrinho de compras.
There pop-ups that offer the discount with countdown timer, this increases the chances of conversion, as it awakens a feeling of urgency in the customer and makes him not want to miss the offer.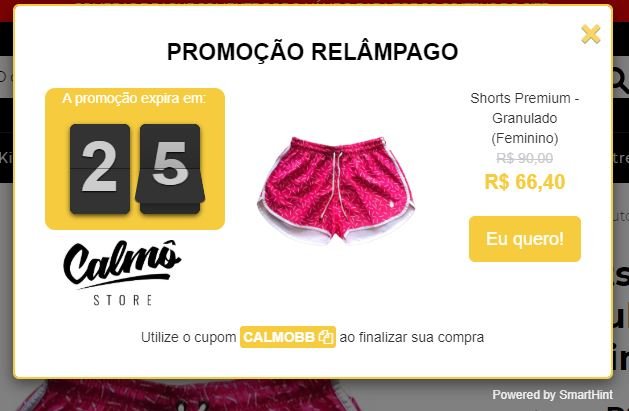 9) Have multiple online service channels
Today, most people have a smartphone and uses the internet to communicate, so it is increasingly necessary to have online service channels, such as chat on the website, WhatsApp, email and even social networks.
For a virtual store — which already operates in the digital environment — it is more than mandatory to have active and efficient online service channels. But some people prefer to communicate in one way and others in another, so bet on a variety of channels to suit everyone.
It is essential that the brand is ready to respond to customers across all channels with the expected agility. Understand where the audience is and turn your attention to these networks. Companies capable of serving customers gain a great competitive edge in the market.
10) Offer an easy cart
It's no use doing an excellent job on all aspects of the site and failing in the shopping cart. Therefore, it is necessary that this field is very intuitive and easy to use, to avoid the famous abandoned carts.
In addition, ask only for the necessary information and provide the value of the freight right at the beginning of the purchase.
11) Do email marketing
Email is a great communication channel with your audience, after all, anyone who uses the internet on a daily basis needs to have an e-mail address and access it frequently. Through it, you can disseminate news, offers and even quality content. It can also disclose opening hours, delivery, payment terms, etc.
But it is very important that users provide the email addresses willingly. One way to convince them to do this is through a pop-up on your website or in exchange for access to relevant materials, such as e-books, infographics, etc.
12) Use social monitoring
Use social monitoring to identify opportunities and learn more about your audience. This monitoring consists of observing and analyzing what people are saying about your brand on social networks. It is about monitoring and processing this data in an assertive way, in order to generate actions that make a difference for the business and for the consumer.
Understanding the company's reputation and working to keep it strong is essential to maintaining the health of the brand and boosting online sales.
Conclusion
Selling online is a great opportunity to start or expand your retail business, but it involves a lot of care and specific strategies.
But, now that you know what online sales are; how to start selling on the internet; advantages of this model; and the main strategies, it is very easy to put everything into practice and start making money that way.
Follow our tips and good sales!
SmartHint is the largest search and recommendation system for e-commerce in Latin America. Meet our technology!
Written by: Tania d'Arc